28 May 2021
Why sustainability needs to be part of the industry's comeback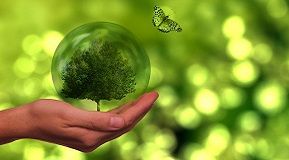 Ahead of World Environment Day (5 June) Therese Dolan, Director Association Management and Consulting at MCI Group and The Meetings Show Advisory Board member, looks at why we need to incorporate sustainability into our recovery plans.
As we gradually step back into an in-person economy set for growth, we need to reassess how sustainability is factored into our dynamic industry's return. Though we saw the largest absolute drop in emissions ever recorded during lockdown, amounting to 7% globally, we are set for a rebound in emissions as these restrictions are lifted based on data from the aftermath of previous global crises.
There is also the looming deadline for delivering the net-zero United Nations Sustainable Development Goals by 2030, leaving businesses with only a few years to take decisive action on sustainability and commit to reaching these UN targets. The way countries stimulate their economies after the Covid-19 lockdowns will have a major impact on future emissions, and our industry will have a key role to positively influence this.
Covid brought seismic changes in how we work and live, with virtual experiences and technology underpinning these interactions. Customer journeys must change to reflect our audiences' new preferences and behaviours. Climate change and sustainability are more important now after Covid and one of the biggest social shifts happening globally. Conscious consumers demand transparency and expect brands to uphold sustainable practices, but Covid has brought further challenges to this.
In a recent study carried out by the London School of Economics, the UK comes fourth in countries that generate most single-use plastic waste with more than 40kg of plastic waste generated per person per year. Part of the increase stems from the need for masks and other protective and medical equipment to deal with the Covid crisis.
With a return to in-person events, attendees will want to feel safe and that will mean increased hygiene resources; PPE and single-use utensils. How do we find a balance with providing reassurance of safety standards and ensuring sustainable processes? At present they appear to cancel each other out. We collectively need to champion the most effective measures to protect hygiene and health without creating pollution and causing harm to our natural environment.
We know the carbon impact of in-person events is significant. For an in-person event, the average delegate produces 177kg of CO2 per day, excluding travel (this is just for ground arrangements such as accommodation, event venue, production, meals, etc.). Sustainability charity WRAP reports that 8–10% of total man-made greenhouse gas (GHG) emissions is due to food waste, whereas 3% is caused by aviation which is staggering. Catering adaptations in portioning, moving to more plant-based foods as well as donating of extra food can all help to reduce this negative impact.
For event materials and production, how can they be made from materials that have not only been recycled but can have another use or another 'life'. We need to look towards a regenerative circular economy and the re-use of materials, a shift to more sustainable modes of production and consumption. This involves working with suppliers to understand supply chains and have more transparency on processes and find ways of reducing impacts across touchpoints.
Due to Covid restrictions, our interactions have gone virtual with content and engagement available to wider audiences than before and shifted our perception of face-to-face events. However, there is a footprint to all of our virtual events too. It's estimated that for a virtual event, an attendee will produce around 4 to 5kg of CO2 per day in an analysis done by MeetGreen.
Servers, event platforms and devices plus the type of content all affect energy consumption. There is a higher impact if you have a lot of streaming, downloading, or content stored on the cloud for on-demand content. Though the digital carbon footprint per person is lower than a face-to-face experience, virtual audiences are many times larger. We need to be vigilant on how we can reduce and offset the digital carbon footprint.
Online accessibility and inclusivity also need to be addressed. An Oxford study found that companies with solid sustainability practices have better operational performance, and ultimately resulting in more robust cash flows. Similarly, research by McKinsey found that companies in the top quartile for gender or ethnic diversity were more likely to financially outperform their national industry average. The same principles apply to events, big and small. A diversity of perspectives and people means a wider variety of ideas, discussions, and potential collaborations. Ultimately, this means a more impactful event.
The key to wider adoption of sustainable and inclusive practices, among both event providers and consumers, may lie in reshaping existing habits. As an industry, we need to positively influence behaviour and drive meaningful sustainable change, together.
We all need to adopt a regenerative mindset and a holistic approach to create positive social, environment, and economic changes.
Covid has been a reset button – this is a time to rethink how we create experiences and engage with our audiences, partners and suppliers in the long-term.
At MCI we see sustainability as a business imperative, a moral responsibility, an economic opportunity and a driver of innovation.
Find out how we can help you achieve your sustainability goals: www.mcisustainability.com/