May 01, 2019
Meet the editor: Ken TJX, HQ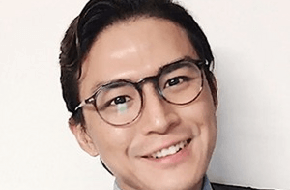 Ken TJX has been the Deputy Editor of Headquarters (HQ) Magazine for the past year, having spent a decade working across the creative spectrum from creating brand identities and branding strategies through Design Thinking, to art-directing and writing copy for advertisements, working on campaigns for F1, Nike, Chupa Chups, Mentos, Singapore National Tourism Board and Changi Airport. We spoke to Ken to find out more about his role at HQ.
Please could you give a brief overview of your current role and career so far?
I was hired to write articles and destination reports, and be the laser eyes to scan through every word we put out. But instincts from my previous creative roles kicked in, and I started rebranding HQ; strategically and visually improving on our print and digital products. My plate grew to include creating magazine layouts and marketing extensions like HQ's media kit, event posters, and digital banners. There's a list of other developments that I'd like to have the resources to implement, to create even better and efficient marketing channels for disseminating information to every corner of our industry in a personalised and curated way.
So far, as a part of the media, I enjoy standing in between the two major stakeholders of our MICE industry – Associations and Destinations – observing and learning from both sides of the business. I believe I can value add to this industry and also grow from the experience along the way.
Tell us a bit about Headquarters Magazine. Who is the magazine aimed at and what's your USP?
It's not easy to tell you just a bit! In every edition my team and I work with incredible industry thought leaders to pack in a diverse (and relevant) content mix that features association management and education, destinations/venues and MICE events. All sides can come to the same page, for a regular update of the latest industry news and insights in our publication/ 'knowledge hub'.
We also aim for our print editions to be a pleasant browsing experience too irresistible to put down; primarily reaching professionals in international associations, congress organisers and agencies. The future transformation of HQ should see a further enhanced digital platform for mobile browsing, and also stronger engagements with our readers through our social media platforms.
What are the some of the big issues/trends in the industry that are currently making the pages of HQ mag?
The biggest issue has been GDPR, especially in the lead up to it; now it feels almost like Y2K 2.0 as our daily lives go on as usual. I am still getting way too many spam mails from China so I guess there're still things to be said.
I've realised by now that most issues and trends in our industry are ongoing conversations; one of them is sustainability – the main subject of our upcoming HQ88 May edition, where we invited our association contributors and destinations to share about different facades pertaining to this 'big issue'. Grab your copy at the Meetings Show, you will see several mentions of UN's SDGs, a recurring term that is very likely to pop up in future issues as well.
What kind of content and subjects are most popular with HQ Mag readers?
We get the most feedback from our readers (usually at events) that they learned about certain latest news from HQ mag; people like finding out about what's new, especially about industry figures they know. The biggest reaction received from our last magazine was the article from our new partner, Meetings+Millennials. It seems like our readers are interested to hear from the millennials' perspective, and I believe we should expand our platform to include more diverse voices from other demographics as well.
Do you attend many trade shows? If so, what is the most useful part of them for you and for HQ magazine?
I have attended a handful, and they are useful for two main reasons. For editors, it is an effective physical one-stop-shop to gather all the latest industry insights and strategies, instead of filtering through press releases while being deskbound. Tradeshows are also the perfect opportunity to reconnect with our clients, most of whom are treasured old friends.
What do you think is the best thing about the meetings and events industry?
The positive impact this industry can bring to the world (besides its vast global economic value) – such as knowledge sharing, personal and community development. Most importantly, the meetings industry shows me that even though these days most of us (including toddlers) are too glued to our digital screens, meeting face to face will keep us 'humane' despite technological advancements. It is always better to meet in person.
If you could change one thing in the meetings and events industry what would it be?
A decay almost every other industry has – late payers.