08 Jul 2021
In-person events to return in 2021, finds Pulse Survey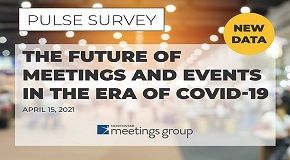 More than three quarters (76.3%) of event planners in Europe are expecting to hold an in-person or hybrid event in 2021, according to the results of the latest Pulse Survey.
The results of the survey of 107 UK and European event planners, carried out by Northstar Meetings Group UK in May, found growing confidence for face-to-face among event planners.
The majority (62%) said they were planning for events in the second half of the year, with 28% in Q3 and 34% in Q4. A smaller number (14%) were planning an event in what's left of Q2 while 24% were aiming for 2022 or later.
Significantly more than a quarter of respondents (26%) said they were booking new events, compared to only 11% in February, while 19% were researching new events and another 11% were actively sourcing for new events.
Research revealed there was a significant drop in the number of people planning virtual events. Over a third - 37% - said more than half the events they are planning are online and 10% said their entire pipeline was virtual. These figures were 47% and 17% respectively in the previous survey.
Although planners feel confident about meeting face-to-face, many are expecting safety precautions to remain in place when they do. More than half (58%) of respondents expected their next event to require masks and adherence to all protocols, while 35% expected to require proof of a recent negative COVID test.
Another 28% expected to require proof of vaccination, while a similar amount was expecting to conduct rapid tests on-site.
The biggest areas of concern for future in-person or hybrid events were government mandates on travel, inflexibility of financial terms/contract terms, and the impact on airlines and travel routes.