06 Jul 2021
What's Hot: Planning to Party / Publicity / Work-life balance. What's Not: Plastic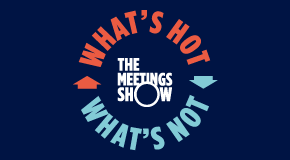 In this month's What's Hot, What's Not we highlight the biggest news and insight from across the industry.
After the year we've all had we're all looking forward to letting our hair down, which is why planning to party is a trend we can get behind. We also extol the virtues of publicity (when it's done right, of course) and predict that work-life balance is what many will be seeking as the industry opens up. Plastic is a useful material, but single-use plastics are damaging to the environment and as it's Plastic Free July, it seems like the right time to put it on our 'not' list.
What's Hot
Planning to party
Uncertainty around the pandemic has meant it has been practically impossible to plan any kind of event over the past year, let alone one where we might be able to have fun. The days of disappointment are soon to be behind us, however, and as regulations relax, we are finally able to schedule in some face-to-face time with others. After the last few months, we've had, we'll all be looking for an excuse to let our hair down, which is why The Meetings Show is joining Hard Rock Hotels and Moulden Marketing and planning to party.
Hosted buyers attending the live edition of The Meetings Show at ExCeL on 30 September and 1 October are being invited to do business at the show and then 'rock out' at a party at the Hard Rock Hotel, London on the nights of 29 September or 30 September.
Hosted buyers based outside of Greater London will also be eligible to at least one night of accommodation in a London hotel and complimentary return travel to the capital.
To register your interest visit here
Publicity
The word 'publicity' may turn shy and retiring types cold, but when a business launches a publicity campaign that is targeted and measured, it can be a real hot ticket to success. Best Western Hotel Group is already seeing one PR campaign come to fruition.
The group, who will be exhibiting at The Meetings Show this year, agreed to be featured in Channel 4 TV show 'A Very British Hotel Chain' last year and the exposure has already had a positive impact on the business's bottom line.
Terii Dunne, director of business development at Best Western GB said: "It's been a great year for Best Western Hotel Development team. Despite the pandemic, we have been busier than ever. That's been due to the positive impact of the TV programme as well as hotels seeking new brand partnerships."
As we are all aware, the last year has been a difficult one for the UK's hospitality sector, so Best Western's success is one to be celebrated and is the reason why we're turning the spotlight on publicity this month.
Work/life balance
The last 18 months have been tough, but for some, the change in the working environment and the fact we have been able to spend more time with family, or on interests outside of work, has led us to re-evaluate our lives.
Now, as the industry starts up again and people return to the workplace, we should expect to see the work-life balance remain with employees expected to request flexible hours, remote working, or both.
As Priya Narain, co-founder of Events First Steps and Tomorrow's Talent judge, says in her article, 'How the industry can address a potential staff shortage' companies are struggling to find staff due to a range of factors – some furloughed staff have moved out of the industry completely for example - so firms wishing to rebuild will need to consider offering a better work-life balance to existing and new staff if they want to attract and retain them.
"The pandemic forced people to stop and slow down which for many has demonstrated that the previous ways of working are no longer sustainable," she writes, "and people need to create a better work-life balance."
Businesses offering 'flexible working solutions' will be in demand, hence why we're putting work-life balance on our hot list this month.
What's Not
Plastic
Plastic is a useful material, but when an item made from it is only used once and discarded, it can have terrible repercussions for the planet. According to the UN Environment, just 9% of the world's nine billion tonnes of plastic has been recycled. Most ends up in landfill or the world's oceans leaking toxic gases as it breaks down and harming wildlife.
This month is Plastic Free July, a key initiative of the Plastic Free Foundation, that works towards a vision of a world free of plastic waste.
Many in the business meetings and events industry are already aware of the negative impact plastic has and have been making moves to cut back on its use – for example, replacing plastic promotional material with sustainable items and serving filtered water in reusable glass bottles. Nevertheless, there's still more we can do to cut back on plastic which is why we're giving this wasteful material the thumbs down this month and urging the industry to support Plastic Free July.
Stay ahead of the industry's hottest trends by attending The Meetings Show 2021 on 30 September and 1 October at London's ExCeL. Register to attend for free here