07 Sep 2021
What's Hot: Hybrid / Leicester / Team-building. What's Not: Failing to show up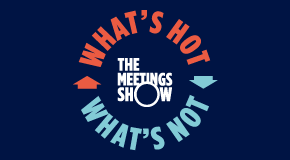 Our ultimate What's Hot What's Not before the hottest show comes to town sees us throw the spotlight on hybrid, the destination of Leicester and team-building activities.
With industry events back on the agenda, providing multiple chances to meet fellow event professionals and support the future of the industry, we give failing to show up (especially to industry shows) a big thumbs down.
To find out about the latest industry trends and meet those setting them, secure your place at The Meetings Show 2021 where you can meet representatives from the world's hottest destinations, venues, hotels and technology suppliers. Register here.
What's Hot:
Hybrid
Trend predicters and followers have had hybrid meetings and events on their radar for several years, but until the pandemic, only a few event organisers had dipped their toes into the water and incorporated online attendance into a live meeting, or run a virtual element alongside an in-person event.
Now, many more have taken the plunge and hybrid is finally having its day with many global conferences happening in both a live and virtual format and an increasing number of venues offering the service to their clients.
Event technology companies such as Shocklogic have also worked hard to develop more sophisticated hybrid experiences for their customers to support this area of growth for the sector.
Now hybrid events can allow attendees, presenters and exhibitors to participate from anywhere in the world, offer centralised registration for face-to-face and remote participants and can supplement in-person events with closed captioning, virtual booths, video-conferencing and on-demand content.
For those interested in tapping into the trend and finding out more about the tech available to support hybrid, visit the Shocklogic team at the first hybrid version of The Meetings Show.
"We've been exhibiting at The Meetings Show since 2014 and are so excited for this year's landmark hybrid event. Despite the ongoing challenges of the pandemic, it's been a successful year for Shocklogic, and we've got some exciting new things to share," says the Shocklogic team.
Leicester
It might be based in the Midlands, but when it comes to MICE activity there's nothing middle-of-the-road about Leicester.
The city and its surrounding area boasts a plentiful and diverse supply of meetings and conference venues – 49 of which have recently formed a public private sector partnership to better target the sector – to cater for events of all shapes and sizes.
Renowned for its sporting stadia and venues, Leicestershire has a rich heritage of sporting excellence and there is an Elite Athlete Centre and hotel, bespoke year round hotel and conference venues all part of the Imago Venues portfolio. The area is home to the County Cricket Club, Leicester Racecourse and Morningside Arena (home to the Leicester Riders basketball team).
For those looking for events to really take off, they could choose to hold them in the National Space Centre – the UK's only venue dedicated to the exploration of space and which has the UK's largest Planetarium.
To help it shout about its excellence as a MICE location, Leicester has just launched a new Business Tourism Service to support the recovery and growth of the County's business tourism market has been launched.
Meet Leicester is led by Samantha Hall and Pasquale Buonanno, who will be highlighting how hot Leicestershire is at The Meetings Show.
"Leicester is situated in an ideal location home to East Midlands Airport and just 30 miles to Birmingham International Airport. With a mainline station and just 66 minutes from London St Pancras, easy access from the M1, it really is the perfect location for delegates anywhere in the country," says Meet Leicester's Hall and Buonanno.
Team-building
Lockdowns and social distancing measures kept us physically apart for months and while many adjusted to working from home and conducted meetings and business online, we have also missed human contact.
Pre-pandemic, one way of bringing everyone together - the annual team-building day – was sometimes met with groans of despair from workers who were reluctant to swap a day in the office with one on a lake attempting to build a raft with their equally clueless colleagues.
Now, however, that view has changed and many of us are craving face-to-face time with our workmates– even if it means squeezing into a wetsuit and grappling with rope and planks of wood.
Team-building is back in business as companies look to reunite work colleagues and introduce new ones to the fold after so much time apart.
Silverstone, which hosted of the Formula 1 British Grand Prix in July, is already ahead of the curve. The Northamptonshire circuit's International Exhibition and Conference Centre has seen a 53% increase in MICE enquiries compared to 2019 with a large number of those enquiries looking to bolt-on team-building activities such as a pit-stop challenge or a driving simulation activity to encourage teams to reform and bond again.
Hayley Smith, Silverstone head of MICE sales, says: "I always maintained that the tap would turn on at some point and we are encouraged to see many enquiries converting too - meaning businesses do have more confidence to bring their colleagues together again."
What's Not:
Failing to show up
Whatever area of the business meetings and events community you're in, you're bound to have missed the buzz of live events and the chance to come together with others.
With meetings, incentives and events now back on the agenda, now is the time to get involved and support the sector at one of the many industry-wide events taking place this autumn.
Failing to show up, however is not a good look, so if you have the chance (and as long as you feel comfortable and are able to make it) register for industry events and, crucially, go along.
This is exactly what The Delegate Wranglers' current 'Show Up' campaign is all about – getting involved and showing your face at any (or all) of the various trade shows taking place over the few months.
Aside from The Meetings Show on 30 September and 1 October, there are many shows to attend including EVENTIT on 10 September and CHS Birmingham 2021 on 26 October.
"We should all be chomping at the bit to go to a show!" says Delegate Wranglers founder and MD Neil Thompson. "What a way to reconnect with all your contacts in one place.
"Just think of the buzz, the educational sessions, the knowledge, the drinks receptions, the laughs, the opportunities and much more. If you feel comfortable attending, get yourself registered and give yourself a pat on the back."