03 Aug 2021
What's Hot: Confidence / Going green / Education. What's Not: Lack of diversity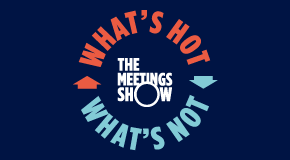 This month, in What's Hot, What's Not, we're all about positive thinking as we put confidence on our 'hot' list while applauding those who have moved on from talking about sustainability and are actively going green.
We're also championing continual learning as our education programme goes live while lack of diversity gets a big thumbs down as our 'what's not' topic.
What's Hot:
Confidence
Uncertainty has been the word on everyone's lips these past 18 months and while we understand why, we also think it's high time we cast aside the doubts and started thinking positively and decisively.
Confidence is hot, which is something Venues of Excellence knows and is hoping to inspire in the rest of us through its 'Confidence in Us' campaign.
The campaign is designed to underpin the consortium's venues' commitment to delivering safe events as the UK opens to 'business as usual' for meetings and events.
It suggests that its members make it clear to their clients they are working within Covid-19 Government guidelines to deliver safe events; continue to offer flexibility with contracts and terms of business and will make delegate experience and welfare their priority.
Venues of Excellence CEO Mandy Jennings said: "Whilst hybrid and online events have been in demand, we are seeing a surge of enquiries from clients seeking face to face events once again or a mix of both which is great news. We see conference and event planners are looking to our venue finding team to advise them on the guidelines around hosting events, seeking more flexible terms, assistance with negotiation and an understanding on how they instil confidence in their delegate participation to return to the meeting room.
"As our member venues are independents in the marketplace, it seemed a natural campaign to launch to support our delegates and to promote our consultative approach with conference and meeting planners."
Going green
We're all aware of humankind's impact on the environment and many of us are keen to mitigate our actions and lessen our carbon footprint.
This month, however, it's not enough to intend to live a more sustainable lifestyle, we should be taking action and going green, just like VisitBelfast.
Inspired by the fact that 96% of event organisers consider sustainability as important or extremely important, the convention bureau has taken positive steps to make changes in this area over the last year, such as establishing a sustainability team, creating a new Sustainability and Impact manager role within its team and launching a Green Tourism partnership with Belfast City Council.
VisitBelfast has also become a Green Tourism business, joined the Global Destinations Sustainability Index to accelerate its sustainability performance as a destination and developed a sustainable events framework to support conference organisers with the aim of 30% of events held in Belfast having a sustainability plan in 2022.
Deborah Collins of VisitBelfast, said: 'As the city's Destination Marketing Organisation, we knew we needed to work quickly to address sustainability and bring it right into the heart of what we do as an organisation. At the same time, we wanted our partners to benefit from gaining third party accreditation as we know this will be key in securing fresh business moving forward. We are all embarking on this journey together to build back better.''
Education
School days may be well behind most of us, but that doesn't mean an end to learning.
In the words of Albert Einstein: "Intellectual growth should commence at birth and cease only at death." So we're championing ongoing education this month as a way for event professionals to bolster their knowledge and improve their chances of success.
Thankfully, The Meetings Show will be making it easy for every visitor to improve their knowledge and learn from others through its education programme, which has just been announced.
The programme offers 40 hours of education that will be delivered by industry experts over the two days of the show. Get ahead of the rest and take a look at the programme here
What's Not
Lack of diversity
The tragic death of George Floyd and the subsequent Black Lives Matter global protests in 2020 highlighted racial injustice and inequality and led to many individuals and organisations taking notice of the issue and pledging to make a change.
The MICE community was among those checking their own backyards to see how diverse and inclusive the industry is and, found that although it is well-represented by women, the truth is that the majority of the industry's decision-makers are white males and BAME representation is mostly back-of-house.
Just over a year on, steps are being taken to address the imbalance. Ashanti Bentil-Dhue and Gabrielle Austen Browne (both speaking on the issue at The Meetings Show on 30 September) launched Diversity Ally, a consultancy service and membership organisation offering solutions to help businesses and organisations across the sector to become more diverse and inclusive. This is gaining support across the industry. However, more can be done to address the balance which is why we're giving the thumbs down to a lack of diversity.
There are so many benefits of a diverse, equal and inclusive industry that when it lacks diversity it holds everyone back.