03 May 2021
What's Hot: Brighton / Business intelligence / Boxed Food. What's Not: Failing to talk about mental health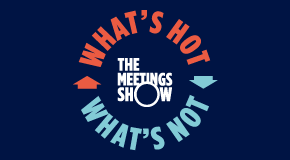 What's Hot, What's Not is a great new feature from The Meetings Show, uncovering the latest trends and developments from the world's business meetings and events community.
Each month, we'll highlight the biggest news and insight, giving the thumbs up to three things and thumbs down to one.
In our first 'What's Hot, What's Not' we put Brighton, benchmarking and boxed food on our 'Hot' list while failing to talk about mental health sits at the bottom of the temperature gauge.
What's Hot:
Brighton
The UK coastal city Brighton has been busy refurbing, developing and adding to its MICE facilities over the last year in anticipation of events returning. This, together with some of its other attributes – from its vibrancy and foot-friendliness to its amazing seafront and year-round festivals – propels it onto our hotlist this month.
The East Sussex destination has a lot to shout about, including a full refurbishment of the historic venue Brighton Dome Corn Exchange (set to be complete in the autumn) and the completion of a room refurbishment programme at Hotel du Vin, Brighton. There are also plans for a multi-million-pound renovation of landmark hotel Hilton Brighton Metropole.
Shelter Hall – a food market showcasing the work of talented Sussex-based chefs - is a new addition to Brighton's seafront that can be hired out for private events, social events, private dinners and informal gatherings. For those looking to make a splash between meetings, note that Sea Lanes – a new 50m outdoor swimming pool – is scheduled to open Brighton's seafront next spring.
"Brighton is easily reached, affordable and has a friendliness that attracts business visitors from all over the world and it really should always be considered as a viable destination for business events," says Darren Johnson of VisitBrighton Convention Bureau. "A warm welcome is given to all our business and leisure visitors and we have a great many conference planners who can testify to that.
Business Intelligence
As the industry begins to re-open, organisations will be looking for all the assistance and support they can get to help improve efficiency and effectiveness, to aid the recovery and future prosperity of business. Enter business intelligence. Signing up to a business intelligence system may not seem like a vital weapon to add to your re-opening arsenal, but recent developments in this area have convinced us otherwise. The Meetings Industry Association's (mia) evolution of its original industry benchmarking tool for venues – miaTouchstone – is a good example of developments in this area.
Specifically designed to help drive business improvement and standards, the innovative platform efficiently manages client feedback enabling AIM Secure accredited venues to receive real-time insights into their market position and establish how they compare to the national, regional or local competitor sets they wish to target. It also enables users to instantly share and demonstrate evidence of their legal compliance and safety protocols to prospective bookers.
"Not only will the tool provide a plethora of innovative capabilities and benefits to venues, but it will also facilitate the collation of extremely pertinent data that we will utilise to evaluate the state of the industry in real-time," says Jane Longhurst, chief executive of the mia."As venues benchmark on a national, regional and local level, we will also be equipping ourselves with invaluable insights that can be used to shape industry-level strategies, the subsequent recovery and future prosperity of business meetings and events, so it's an extremely exciting project that will soon become central to the sector."
Boxed food
Make way buffets, smorgasbords, and self-service, contact-free food is coming through. When events return, the priority will be ensuring they are clean and hygienic to allay any COVID-safe concerns and this will extend to food served to delegates, says Lime Venue Portfolio (LVP) in its latest Beyond Food Report.
Research carried out by LVP last year found that food is not only a talking point at events, it's also a way of imprinting an ethos of the event onto the delegate. According to the results, food accounts for between 40% and 80% of all event feedback. Event catering teams have been working behind the scenes over the last year to come up with creative ideas for serving food, so it continues to bring delegates together while also respecting hygiene concerns.
Therefore, expect to see dishes served directly to delegates already portioned up and sealed – think hot boxes filled with noodles or curries; salads and desserts in Kilner jars, bento boxes filled with delights and a selection of canapes on a covered plate. Sam Morgan, executive chef, the Venues Collection, says: "It's all about creativity. We need to be flexible in our thinking, focusing on great food, but also remembering the environment and the state of mind of the delegate all the time."
What's Not:
Failing to talk about mental health
One in three event professionals will suffer a period of mental health during their career, according to research highlighted by the Event Marketing Association. With the job of event co-ordinator listed as the fifth most stressful profession according to a study by CareerCast, this statistic may not be surprising.
However, recognising when things might be getting too much and crucially talking about how you are feeling will help you to manage your mental health better and help you gain the support you need.
Mental Health Awareness Week runs from 10-16 May and is designed to get the whole of the UK to focus on achieving good mental health. It's all about starting conversations about mental health and the things in our daily lives that can affect it.
So, speak up about mental health, because failing to talk about it is not hot.
As Nicole Leida, says in her article "How to manage your way back to "normal" it's important to talk to others about your feelings as events return. "If you are employed by a company, know that they have a duty of care towards you. If you feel out of your depth because – say – hybrid events are not your thing, perhaps talk to your manager about what you think you need to learn to feel more comfortable in managing them, she writes. "If you are self-employed, perhaps invest some time talking to a friend or loved one about what you are finding challenging at the moment. Sharing is caring, and simply by talking things through with them, you might not only help them with their struggles but also figure out how to manage your own."