28 Apr 2022
What I've learnt with Lene Corgan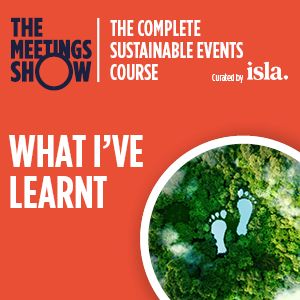 We're all aware of climate change and that there's an urgency to address it, but how can we in the meetings and events industry play our part? To provide inspiration and guidance, we speak to The Complete Sustainable Events Course students to find out what they learnt and gain their top tips for working more sustainably. Next up is Lene Corgan, Head of Business Development - Business Events, Copenhagen Convention Bureau.
The most valuable thing I learnt was how important it is for the entire supply chain to be on the sustainability journey. The course gave me a better understanding of what is required of event planners to make their events sustainable, and how we as suppliers must be able to provide them with the data that they need to track and reduce their footprint.
As a DMO, that means I need to encourage and equip my partners in the destination with the tools and information they need to do that. I come across a lot of smaller event teams in my role, who feel it's a struggle to take on sustainability on top of everything else they have to manage for their events.
If we as suppliers are properly educated, we can pre-empt their needs and make things easier for them. One of the key points made during the course that keeps coming back to me is that you need to look at what are you in charge of, and what you can influence. Your influencer role is just as important as the things you can change yourself. We can't write the brief, but we can ask our suppliers to provide the necessary intel, so event planners have something to work with, and if sustainability is not part of the brief, which is still the case sometimes, then we should encourage them to include it.
Getting an understanding of that bigger picture and how deep sustainability goes was very useful, and at times daunting. It has given me greater insight into what is being asked of planners and how we as a DMO can help them. I would love for my whole team to do the course and would encourage other suppliers to do so too!