14 Jun 2019
Exhibitor spotlight: Puttshack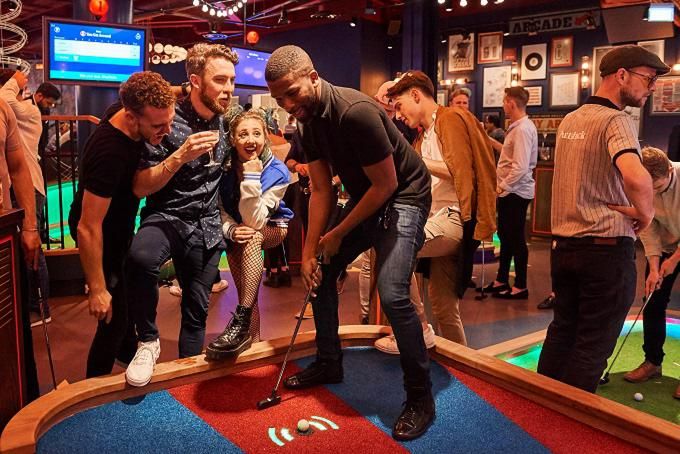 This year The Meetings Show is taking its Hosted Buyer Welcome Reception to an exciting new venue, Westfield's Puttshack. Ahead of the event, we spoke to Puttshack to find out what makes it a unique venue.
This year The Meetings Show is taking its Hosted Buyer Welcome Reception – an exclusive networking opportunity for hosted buyers on Tuesday 25 June – to an exciting new venue, Westfield's Puttshack. Ahead of the event, we spoke to Puttshack to find out what makes it a unique venue.
Tell us a bit about your venue – what makes Puttshack a great venue for events?
Puttshack is the world's first super tech-mini golf concept, using ground-breaking patented trackball technology that puts a total new spin on the traditional game!
There is automatic point scoring, leaderboards, and intuitive game play so the tech plays a considerable role, facilitating the whole experience and making it all the more fun.
Puttshack is great for events because it offers something that the traditional conference or events space doesn't and provides the perfect platform to interact and network with people.
On top of all that, the mouth-watering food washed down with some delicious drinks will no doubt make the event considerably more enjoyable than your standard event.
There have been quite a few golf-themed venues opening in London and around the country in recent years, what sets Puttshack apart from the others?
Puttshack has taken the traditional game of mini golf and fused it with tech to create a unique mini golf experience. The tech facilitates the whole experience eliminating the hassle of counting your scorecard, as the tech tracks how many times the ball has been hit and the distance the ball has moved.
Then whilst playing you can keep a check on how you are faring against the other players on the screens. If you hit a big score you will be automatically added to the day and all-time leaderboards!
Aside from the mini golf we are a bespoke rum bar with 127 different rums and all of our food is made in house from our kitchen and accommodates to all dietary requirements.


What's your food and beverage offering like at Puttshack?
Well the setting for it isn't half bad with a view over Westfield Square, with Lakeside and Bank coming imminently. We have carefully curated menus built by Executive Chef Richard Edney. The menus are designed for sharing, with plenty of indulgent 'guilty pleasures' and beautifully crafted healthy meals and vegan options.
Our bar menu boasts all the usual suspects as well as an exclusive rum list with 127 rums; and check out our very own Rum Bible if you're rum renegade who wants to learn more about our favourite spirit.
Does having an on-site activity like mini golf help facilitate networking at events?
Absolutely, what better way to get to know someone than over a bit of fun whilst getting into competitive spirit over a game of mini golf?!
If that doesn't help break the ice or prove a conversation starter then no doubt the design will definitely prove a talking point. The luminescent lights and whacky golf holes reminiscent of Las Vegas, designed by Russell Sage Studios, will make you feel as if you are entering an adult's playground.
On top of that, the liquid courage will no doubt ensure the conversation flows nonstop!
What are the benefits of choosing a unique themed venue like Puttshack, rather than a purpose-built events venue?
We just believe people are tired and bored of traditional purpose-built event venues.
It's the outrageous fun of mini golf, combined with state-of-the-art facilities that sets us apart. We have a range of golf, food and drink packages with exclusive areas available for 10-110 guests or alternatively you can hire out the entire venue with all 4 courses and unlimited for 750 guests, really giving you an above par experience.
Keep an eye out as we are opening in Lakeside in July and then Bank later this Winter.
What can attendees of The Meetings Show's Hosted Buyer Welcome Reception look forward to this year?
The attendees can expect an evening of healthy competition, fun, as well as some mouth-watering food and drinks.