26 Nov 2019
Exhibitor Spotlight: Peru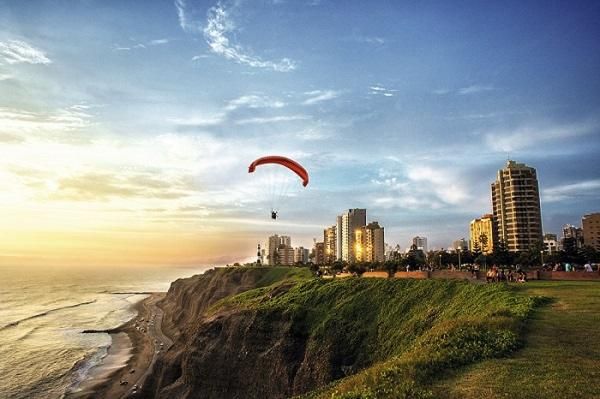 Returning to The Meetings Show for the second year, Peru is one of Latin America's leading MICE destinations; a country rich in culture, heritage and unique experiences. Cecilia De Orbegoso, investment and tourism specialist at the Trade Commission of Peru in London, tells us more about everything Peru has to offer.
What are the advantages of hosting a meeting or event in Peru?
Peru has hit the twenty-first century at full speed, having experienced sustained economic growth for more than fifteen years now, led by private investment in areas such as mining, finance, manufacturing, and, of course, tourism.
The heritage of our past, which makes us a one-of-a-kind destination, blends seamlessly with modernity and progress. One of the most eloquent examples of this is investment in hotels, primarily international chains that have focused their strategies on the Peruvian market in an effort to develop meeting and event tourism.
Lima has accumulated enormous experience in hosting the world's most important events over the past decade and is now preparing to inaugurate its new convention centre. Along with the country's capital, cities such as Arequipa and Cusco, as well as the seaside resort of Paracas, are also perfectly positioned to host congresses, meetings and incentive travel events. Tailor-made activities, unequalled cuisine and cultural attractions that will not be found anywhere else, along with Peruvians' world-famous friendliness, are all here waiting for tourists.
What makes Peru so special is its cultural legacy. The Inca Empire was one of history's great civilizations – Machu Picchu is the icon for which we are internationally renowned – but before the Incas, dozens of cultures populated our territory, leaving their mark on countless areas of science and art (such as medicine, engineering, architecture, textiles, metalworking, and ceramics, just to name a few).
Nowadays, innumerable archaeological sites throughout the country marvel visitors from around the world. Five millennia of culture were enriched by the arrival of the Spaniards in the sixteenth century, along with the subsequent contributions of Africans, Europeans, and Asians, who brought their customs with them and adapted them to their new home in Peru. It is for this very reason that our cuisine is so highly acclaimed for its originality, while our music boasts melodies and rhythms that have travelled halfway across the world, fusing into traditional dances and outfits with a diversity that makes them truly unique.
There are five main reasons why to choose Peru as a unique MICE destination:
1. Forward Looking Country
With an economy that has led the Latin American boom of recent years, Peru never ceases to surprise the world with its strengths. In the last two decades, Peru has implemented a responsible and stable economic policy that has turned it into a rapidly growing economy offering a wide variety of investment opportunities.
Peru is the fifth most populous country in Latin America and a leader in growth, with a favourable outlook for the coming years according to projections by the International Monetary Fund (IMF). Peru is a member of the Pacific Alliance – a new trade bloc that also includes Chile, Colombia, and Mexico – as well as the Andean Community and the Asia-Pacific Economic Cooperation (APEC) forum. It is also one of the twelve countries involved in negotiations for the Trans-Pacific Strategic Economic Partnership Agreement (TPP), and has been admitted by the Organization for Economic Cooperation and Development (OECD) to become a full member by 2021.
Peru has also signed free trade agreements (FTAs) with its main trading partners, such as the United States, China and the countries of the European Union.
After experiencing such stable economic and political progress, Peruvians are eager for more. Private investment continues to flow into the country, while the FTAs have provided export sectors (raw materials, manufacturing, and agribusiness) with a solid platform from which to reach the world's biggest markets.
A quick glance at Peru's national accounts shows low levels of public debt as a percentage of the GDP – according to the IMF, 19% in 2012 – along with high employment levels, rising wages and strong international reserves, garnering recognition from institutions such as the World Bank and the International Monetary Fund.
2. Close to Everyone
The strategic location of Peru, and particularly the city of Lima, makes our country the best choice for your next event. Non-stop flights from the world's most important cities arrive at Jorge Chávez International Airport, the region's main hub. The airport is considered one of the best in South America, offering connecting flights to the country's top tourist destinations.
Due to its strategic location, Lima serves as a regional hub. International flights arrive at Jorge Chávez Airport, considered one of the best in South America, where it is possible to catch domestic connecting flights to the country's main tourist destinations. Peru has over 30 international destinations and 1,000 flights per week.
Peru's President Martín Vizcarra affirmed in December that he expects the Chinchero Airport's completion by 2021, marking the occasion of Peru's Independence Bicentennial. The new airport is located in the Chinchero District, part of Peru's touristic Cusco region.
3. With Open Arms
Three cities, all declared World Cultural Heritage by the UNESCO, and a seaside resort situated alongside a protected natural area, combine modernity and first-class infrastructure with historical wealth.
Lima: Built on the foundations of its Pre-Hispanic and Colonial past, Peru's capital is now in the prime of its life in this new millennium.
Paracas: The desert on the seashore, in the department of Ica, a few short hours from Lima. Incredible landscapes, fauna in its natural habitat, and, of course, lots of history.
Arequipa: The city's gorgeous historic centre is a jewel of Colonial architecture, earning it a place as a World Heritage site.
Cusco: The capital of the Incas, where former royal palaces have been renovated into hotels, Cusco is also a dynamic and cosmopolitan city.
4. World Class Cuisine
Peru is the Western Hemisphere's premier culinary destination. Our cultural heritage and geographic variety have made us experts in offering a range of delicacies.
Recipes that date back centuries, now adapted to the innovative offerings of fusion cuisine.
The chance to enjoy fruits and vegetables harvested that very same day, along with the freshest of seafood. Peru is also a leader in organic farming techniques.
Peru is the birthplace of pisco, the distilled grape brandy that tastes great on its own or in a dazzling array of cocktails.
5. Professionalism and Cordiality
Peru offers infrastructure, professionalism, and attention to every last detail in the organisation of your event.
From events for over twelve thousand participants to incentive travel for senior executives of multinational corporations, Peru has played host to a long list of presidents, prime ministers, international opinion leaders, heads of multilateral organisms, and CEOs.

Are there any exciting developments we should look out for in 2020 – any new hotels or venues, any big events taking place in Peru?
In 2020 Lima will host the Connections event. Connections is the international private community for senior executives in high-end travel, focusing on luxury, meetings and incentives, wellbeing, adventure and weddings.
Lima will also host the World Congress International Association for Adolescent Health (IAAH), the International Conference on Medical Image Computing and Computer-Assisted Intervention (MICCAI 2020) and the World Congress of Echocardiography and Allied Techniques just to mention a few.

Are there any traditional Peruvian foods that people should try when they visit?
Peruvian food is just amazing! All of it! But a tourist cannot miss the following:
Ceviche: In Peru, ceviche has been declared to be part of Peru's 'national heritage' and has had a holiday declared in its honour. The classic Peruvian ceviche is composed of chunks of raw fish, marinated in freshly squeezed key lime or bitter orange (naranja agria) juice, with sliced onions, chili peppers, salt and pepper. Bold gastronomes can drink the leftover citrus marinade, which is known as leche de tigre – tiger's milk.
Cuy: This guinea pig, pronounced 'kwee', is one of Peru's most famous dishes. One indication of how important the dish is to the rural Peruvian diet: In a cathedral in Cusco hangs a replica of Da Vinci's Last Supper, in which Christ and the 12 disciples are seated around a platter of cuy. Gourmet cuy are fed an exclusively alfalfa diet to ensure the meat is as tender as possible, and as for the taste, it's sort of like a mix between rabbit and chicken. You can find two popular dishes which are cuy chactado, squashed under stones then fried; and cuy al palo, where it's roasted over a spit. It's also used in more gourmet variations, using cuy in Nikkei dishes instead of smoked fish, or smoothed out as terrine in tasting menus.
Lomo Saltado: The dish arises from the influence of the Cantonese Chinese, containing the seasoning and the mixture of Peruvian and Eastern Creole cuisine. In a 2013 article in the Huffington Post, British-Peruvian chef Martín Morales called jumped loin "one of the most beloved dishes in Peru" and "shows the rich fusion of old and new worlds". This juicy mixture of meat from beef, onions, tomatoes, yellow pepper paste and sautéed soy sauce in a large pan (or wok) is one of the many contributions that Chinese immigration brought to Peru.
Alpaca: In the Northern Hemisphere, the name alpaca refers to expensive wool used to make sweaters and socks, but in the Andean highlands, this camelid has also been a source of meat for centuries. We refer to it as the Peruvian Kobe.
Pollo a la brasa: This Peruvian-style roast chicken is so delicious – and popular – that it's now available in cities around the globe. It is considered a typical dish of Peruvian cuisine and one of the most consumed, even over ceviche, chifa and fast food specialties, and the popularity of the dish means that it is included in the official calculation of the basic basket for families.
Rocoto Relleno: This dish is typically associated with Arequipa, Peru's second largest city, but it is served everywhere. It's a big pepper stuffed with spiced, sautéed ground beef and hard-boiled egg. This is topped with melted white cheese, baked, and served whole. Peruvian writer Carlos Herrera has written a fictional story about the stuffed rocoto, 'History of Manuel Masías', the man who created the stuffed rocoto. In the story, at the beginning of the 19th century the priest Manuel Masias makes an agreement with the devil to recover the soul of his dead daughter by serving a dinner that satisfies the hunger of the devil. For this he invents the stuffed rocoto and includes it among the dishes served to the devil.
Anticuchos: Many may think that an anticucho is just a skewer of meat; however Peruvians will say it is not. Peruvian anticuchos are a dish that is the result of the influence of African culture in Peru. The basis of this dish is the heart of beef; however there are some variants according to the tastes of each person and they can be made from a mixture of meat from the hearts of various animals.
This preparation is enriched with the ingredients of the Andes, such as ají panca. This type of chilli pepper is one of the main ingredients of that country's cuisine; a dry dark brown pepper that gives a reddish hue to meals.
In addition, of course, there is the pisco sour! The most famous cocktail made with our national spirit! A classic Peruvian drink that is sweet, refreshing and smooth.

Does Peru have any unusual cultural traditions?
Many of the festivals, rituals and actual ways of life remain from pre-Columbian time. From traditional clothing to popular folk art expressions, and belief systems to ways of working and even cooking, Peru is full of customs that maintain the legacy of its ancient cultures. A single trip is not enough to discover all the wonders of Peru. Here we highlight just a few magical experiences that must be lived and appreciated when you visit this country.
Payments offered to the Earth
The ancient Peruvians developed strong links with nature based on respect, fear and adoration. Men and animals depended exclusively on what the earth could produce and provide, and this led to the need to express their worship of the earth as a source of life. The religion of the Andean world had its roots in ancestral rites that linked man to his habitat. In the Andean view of the cosmos, the Inti, or Sun God, was one of the most important gods; the Apus were the spirits that lived in the guardian mountains and Mother Earth (Pachamama) was the goddess of fertility.
Seen from the Andean logic of reciprocity, the payments or 'pagapus', are a way of thanking those spirits in control of natural forces, by offering back the goods or benefits they were given. The offerings that are buried in Mother Earth include coca leaves, which, for the Andean people, are mediators between nature and the human world; different grain seeds, un-worked silver, 'sullus' (Llama or sheep foetuses), 'chicha' (alcoholic beverage made form maize), wine, animal fat, jams and 'huairuros' (red and black seeds said to have symbolic and magic powers).
The ceremony known as "payment to the earth", frequently enacted in the Peruvian Andes, began on the first day of August and continued all through that month. The peasants believed that during this time Pachamama was hungry and thirsty, and it was necessary to satisfy her, feed her and offer her the best food to give her strength and energy.
Another form of offerings are the 'apachetas' or stacks of stones that hikers leave close to the Apus, as a sign of respect. In patron saint festivals or social gatherings it is common to throw beer or chicha on the ground, simulating respect and payment for all the provisions supplied by nature for human consumption.
Inti Raymi
Inti Raymi, which when translated from Quechua means 'Fiesta del Sol' (Sun Festival) is one of the most important festivals of the imperial city of Cusco. This marvellous spectacle which takes place on the Sacsayhuaman esplanade is celebrated every June 24th and is meant to pay homage to the Sun God, a supreme symbol of worship in Inca culture. Currently, close to 750 actors participate, who portray their ancestors with the same fervour as the previous century.
Weavers of Taquile island
Lake Titicaca is one of the most important natural heritage sites in the world, as well as a great source of resources for the communities that live around its blue waters, maintaining ancestral traditions and customs.
The island of Taquile has pre-Inca terraces and ceremonial sites. Its inhabitants are experts in the art of traditional textiles, which has been recognized by UNESCO since 2005 as an Intangible Cultural Heritage of Humanity.
On the island of Amantani, members of the community demonstrate to visitors their agricultural work, textiles, stone carvings and furs.
Covering 43 hectares (106 acres), Suasi island is a unique example of a lake-side habitat. It is just 1 km (0.6 mile) from the shore. In this place ecosystem protection is encouraged, with man and nature coexisting in harmony.
The archipelago of Wiñaymarca is made up of 8 islands, one of which, Anapia, offers visitors the experience of a home stay in a rural area, sharing cultural experiences with the people who live there.

For anyone visiting Peru, what is the one most important phrase they should learn in Spanish?
With all the amazing food, Peru has to offer… definitively, ¿Cuál es el mejor restaurante por aquí? Which means 'which is the best restaurant around here?'