04 Apr 2023
Tomorrow's Talent Winner 2023: Ella Wilson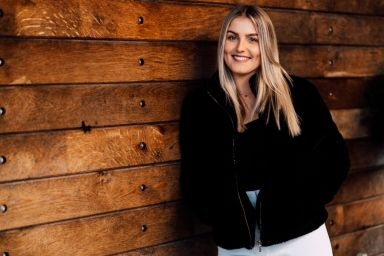 Ella Wilson is a venue sourcing specialist at her family's business ACE Bookings, where she has worked in her 'dream job' for the last four years. Inspired by her mum, Jo Wilson, who had worked in the events industry as a venue finder for many years and founded ACE Bookings, Ella decided a career in events was for her too. After finishing her A-Levels, Ella gained work experience with the events team at Derby Cricket Club and Derby College before joining the family business.
What does your current role involve and what does a normal day look like for you?
Having worked at ACE for four years now, my current role is a venue sourcing specialist. Daily, I assist clients with UK and international venue sourcing. I organise supplier meetings, and meet clients for site inspections. Furthermore, I run the ACE Bookings social media accounts, and more recently have been working on our new website which is due to go live in March. Other activities I partake - when I have the time - include attending industry events and FAM trips, both of which I absolutely love and hope to do more of in 2023.
What's your best event moment so far?
One of my favourite events to be involved within was organising the AIEA summer carnival in 2019. Having only joined ACE at the start of 2019, it was amazing to be part of an extremely successful event so early on in my career. However, 2023 is also proving to be a favourite year so far. We have held many successful events for our key clients and been on some wonderful FAM trips. I am truly looking forward to seeing what the rest of the year brings.
What's been your worst event moment (and biggest challenge) so far?
The worst moment and biggest challenge was the pandemic in 2020. Being part of a family business, I saw the detrimental effects upon both the events industry and ACE. I was lucky enough to be placed on furlough for 18 months, so within this time taught myself how to bake (like many of us did) and created a business known as Ella's Cake Kitchen. It really took off which kept me super busy during this time. My mum also organised several weekly zooms with suppliers, so my knowledge continued to improve on venues during these awful times.
I do feel like the events industry came together as a community during this awful time, and I am so glad we are now out the other side, and our industry seems to be back and better than ever.
What does it mean for you to be named as a winner of Tomorrow's Talent 2023?
It means the world! I was shocked when I heard I was a winner, but also felt so proud to be named as one of the winners alongside many other incredible event professionals. To be recognised when there has been the highest number of entries is truly one of my biggest achievements.
What are you most excited for this year?
ACE Bookings is 10 years old in 2023. We have already had our best year yet in terms of bookings, but alongside this we are marking a great milestone. We are currently planning a party to celebrate and to say thank you to all our clients and suppliers for all their support over the last 10 years.
What are your future ambitions?
To keep improving my knowledge of hotels and to be an advocate for our incredible industry. To continue making my clients' lives easier by providing them with my own personal feedback of hotels around the world, resulting in successful events. Ultimately, when my mum retires my long term ambition is to take over ACE Bookings with my sister and continue the amazing success of the incredible business my mum has built.