19 Apr 2023
Tomorrow's Talent Winner 2023: Amy Woodthorpe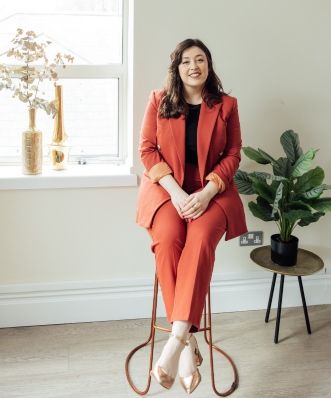 Amy Woodthorpe experienced an insight into events at Exclusive Collection's Lainston House before studying for a degree in International Events Management at Cardiff University (while balancing work a local events venue and as a brand rep at Capital FM). Between finishing university and graduating, Amy landed a job running a Christmas party site at Mercedes Benz World and assisted on events such as Pride and Farnborough Air Show. Returning to the UK from a stint travelling Australia in 2016 saw her secure a job at Media10 in the ITV division where she was part of the team working on This Morning Live and Love Island Live. In 2018 she decided to invest in her own business and bought Venues for Business which rebranded as Search & Source in 2022. As managing director of Search & Source, Amy oversees a team of three people and sources venues globally for corporate clients.
What does it mean for you to be named as a winner of Tomorrow's Talent 2023?
I am thrilled, it is so nice to be recognised amongst such a great pool of talent and winners.
What does a typical day look like for you?
I usually catch up with the team and see what's left to action from the day before and any new enquiries we have received. We start by brainstorming ideas for locations, then contacting venues, collating rates and dates and putting it into a proposal for our clients. We also spend a lot of time checking contracts, chasing invoices and doing final details for client events.
What's your best event moment so far?
I have so many, honestly I have been so lucky to work on so many amazing events and be a part of so many teams. I think most recently it's a personal best moment; its realising and appreciating recently how far I have come and how successful my events business is, despite so many road bumps and set backs.
What's been your most challenging event so far?
We had a client event in 2021 which was for 3000 pax over 3 days in Amsterdam. As a venue finder we are the middle man and are there to support not only the client team, but the venue team with communication and anything to do with floorplan or catering. On this occasion the client over sold on tickets and needed to up the catering by nearly 1000 pax 3 days before going on site. It was tough to manage the relationship and communication with the client and I worked tirelessly to find a solution that could suit all parties (venue, client and guests). With this solution, we also had to change the floorplan to ensure that we could fit the amount of delegates in the space safely. We created a completely different event just 3 days before going on site. Needless to say it was stressful but the event was a huge success and all parties were very happy.
What advice would you give yourself if you were starting out in the industry now?
Be yourself but be less sensitive. It is a tough industry but so rewarding. Jump head first into every project or opportunity. Every connection leads somewhere so nourish all connections.
What are you most excited for this year?
Seeing the team grow and flourish, having our biggest year yet, partnering with some incredible brands
What are your future ambitions?
To retain a happy, healthy team, maintaining a work life balance and to continue to work with some amazing corporate brands, sourcing their venues globally.