06 Jun 2022
Tomorrow's Talent 2022 Winner: Marali Kempthorne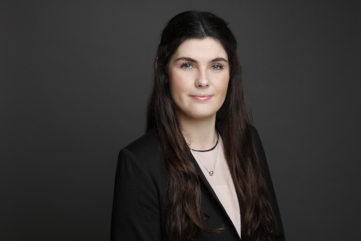 Marali Kempthorne joined Reed & Mackay in 2017 as event executive after a stint working in the commercial team at the Southbank Centre. Over the last five years, Marali has progressed from event manager to senior event manager and is now team leader, meetings & events, which means she is responsible for managing a suite of professional service clients and their projects as well as the running and welfare of the team.
How did you feel when you heard you'd won Tomorrow's Talent 2022?
Surprised! My manager and two of my team had secretly nominated me without me knowing so when I got the email to let me know I'd won, I thought it must have been a case of mistaken identity. They have since shared with me the video they submitted as part of the application, so I feel very honoured to have been recognised and nominated by those that I work closely with.
What impact, if any, has the Covid-19 pandemic had on your career?
I was incredibly fortunate to be retained throughout the pandemic, without any period of furlough. The adjustments overnight were massive, I had to adapt to new clients, accounts, demands and processes all whilst helping assist with the migration and integration of Zen Meetings and Events (formally BTD) and Hillgate Solutions (formally Hillgate Travel) into our Reed & Mackay Event so we were business ready when the industry returned.
It would be remiss of me to say that there weren't challenges, arranging 400 people to the desert of Saudi Arabia during COVID with limited resources was an experience I will never forget, however it's all character building and something that I can draw upon within my future career.
What do you love most about working in the meetings and events industry?
Relationships. Only those within this industry can truly appreciate the demands and stresses that an event can put on an individual and each stakeholder is driven to ensure that it's done right. I truly believe that you can only be as good as those who surround you, so I love hearing of experiences, where individuals have been and what challenges they've faced, the events industry is all about collaboration and we can learn a lot by listening and supporting one another. I think everyone has felt the same wave of emotions recently so there's nothing quite like an entire industry that knows exactly how you're feeling and the intense highs and lows that have happened over the last few years.
What advice would you give yourself if you were starting out in the industry now?
Ask all the questions and don't be embarrassed to ask someone to explain if you're not sure you fully understand. When I first started out, I had no idea what a DDR was or what it stood for. Have a solution-based approached, when things go wrong (and let's be honest, they do!) challenge yourself to think of the remedial action you could take to solve it and then escalate it with a proposed plan of action, highlighting your initiative.
I alluded to it in my previous comments but always remember that relationships are key, those with your clients, suppliers, and those within your team, you'll never know when you'll need the support from each other.
The Meetings Show is celebrating its 10th edition this year, where do you see yourself in 10 years' time?
It's important for me to be surrounded by like-minded individuals who you can really connect with, knowing I have a trusty support network behind me is key.
There are many inspiring leaders within our industry with a wealth of knowledge and expertise and it would be great to one-day be among them and feel like I can contribute just as much. It's also important to me that I remain humble and stay in a position whereby I can create opportunities for others to personally develop and grow to ensure that I can pass on the same chances that were afforded to me.
So, whatever the next 10 years bring, I hope I continue to be part of a department that isn't complacent, always striving for success and providing plenty of encouragement and upward mobility within.