27 May 2022
Tomorrow's Talent 2022 Winner: Jessica McNulty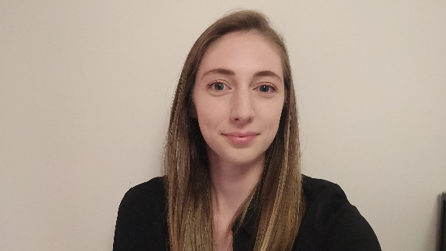 Jessica McNulty joined Quadrant Events as an event co-ordinator in 2019 after graduating from Sheffield Hallam University. When the pandemic hit, Jessica's role switched from focusing on live event logistics to creating and delivering virtual platforms. Now, as events return to live and in her current role as senior events co-ordinator, she is re-focusing her efforts back towards client management and event logistics, while still managing the odd virtual event.
What does it mean for you to be named as a winner of Tomorrow's Talent 2022?
To be named as a winner of Tomorrow's Talent 2022 is an incredible honour. It provides great visibility and networking opportunities for me, but also the recognition that even through working in isolation, I've delivered not only for my clients, but also my team. To be a winner amongst other such great people also highlights the range of skills within the industry and the amazing opportunities that are available.
What has been the most challenging aspect of your career to date?
The unknown for us all during covid has definitely been a massive struggle, particularly the unexpected change from live to virtual events, the large number of redundancies and leavers within the industry, through to trying to plan an in-person event when you can't confirm any aspects due to uncertainty with upcoming restrictions. It's been a difficult time that has ultimately proved rewarding by helping clients develop impactful ways to further share their messaging whilst trying to develop and grow personally within the events industry at a time of great upheaval.
How did you overcome the challenge?
I have overcome the challenges by working with a strong team and having loyal clients that stuck with us through the uncertainty, delivering a massive number of virtual events and to rebound with a bang this year. I have also learnt to adapt to different event types and really plan thoroughly how people will interact with an event or meeting to ensure the maximum engagement and delegate experience.
What inspires you?
Watching the events people around me really inspires me and pushes me to keep learning. From my management team and other colleagues, along with our experienced freelancers, seeing our teams consistently deliver exceptional events across their specialties and skills is really rewarding. I also love seeing the impact of great client relationships based on years of trust and the best delegate experience, and am excited to now be involved in building my own special relationships with clients old and new.
This year is the 10th edition of The Meetings Show. Where do predict the MICE industry will be in 10 years' time?
I think the move to virtual events and meetings during the covid period and the prompt rebound in live events following the ease in restrictions demonstrates how resilient our industry is. I think we have also seen how vital the role of in-person live events is, not just for networking and collaboration but for our own mental health. In 10 years, I think the industry will have balanced to utilise the best of virtual and in-person events depending on the audience and content required, with event production agencies playing a key role in creating an effective event design supported by venues creating a delegate experience to remember.
Where do you want to be in the future?
I aim to keep progressing my skills and knowledge within the industry with my focus on delivering great events for my clients and their attendees. I hope to expand my network to be able to learn from others and bring that experience into my event delivery.