26 Jan 2022
Anna Abdelnoor of isla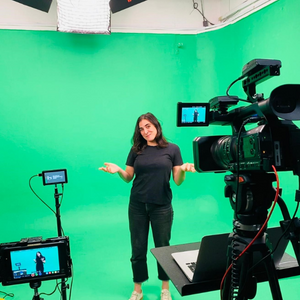 We catch up with Anna Abdelnoor, co-founder of isla, for an update on the first Complete Sustainable Events Course and find out how it is empowering event professional participants to run purposeful events which respect the planet and people.
The Complete Sustainable Events course started in October 2021, and all modules have recently been completed. What was the experience like in running it?
It was great to have an opportunity to be able to share knowledge and empower so many event professionals. We're all on a journey towards delivering accountable and purposeful events with the planet and people at their core, so having that opportunity to support and shape that was brilliant.
I've had some incredible messages and feedback from some of the course participants about how transformative it's been for them to have training and education in this area. We are inherently inquisitive as humans and often lose that as we form habits and stick to what we know and trust. But the future of the planet, and of our generations to come, is something that touches and inspires so many people, and we each want to know what we can do.
Having an understanding of a problem, being equipped with the knowledge to deepen that understanding, and then being provided with guidance on how to take action is massively empowering. A lot of the feedback and commentary I've had is around this, and so I think the course has been a huge success.
Course take-up was very high. Why do you think so many event professionals were keen to learn more about sustainability?
The problem can seem so enormous and overwhelming that we can feel powerless as individuals to do anything about it. But event profs are solutions-led people, and we like to be in control.
Finding work-arounds and solving problems are the things that get us up in the morning, and seeing our work come to life is what keeps us in the industry. The hiatus of live events, the forced slow doing of social lives, and more time away from the structure of 9-5 (never quite 9-5 for us though, is it?) along with more time spent outside and less travelling all gave people space to reflect on what we value and want to invest in.
It gave the climate crisis as a really pressing issue space to breath in the media and in our lived experiences. It helped create the awareness that the sustainability agenda is really about ensuring the future of humanity and our capability to live on this planet. If that's not a problem to solve, I don't know what is!
What are the main benefits the course provides to event professionals?
More confidence to talk to teams, stakeholders, clients, peers and to share their knowledge and learning to better empower those they're working with. At isla we really believe in collaboration across the network, and this is critical for ensuring the changes we need to meet the challenges of today and of the future. So I hope that those that have completed the course will go on to practice what they've learned and also empower others in their sustainability journey too.
What did you learn from running the course?
That I need more hours in a day! It sounds so cliché, but it made me reflect on how amazing the team at isla is. I worked with one of our team, Poppy, to shape the content and develop the exercises, ensuring that we were looking at not just what was necessary but what was useful and would help deepen awareness. Developing the content and delivering it took me out of the day-to-day running of isla for a bit too, and the team really stepped in to ensure that we continued to meet the needs of our members and keep our other activities going. So I suppose what I learned was that it takes a village, and isla has a pretty fantastic one!
You collaborated with Andy King, who provides introductions for each module. What was it like working with him?
He is such a fantastic guy. He really is that person that can turn a frown upside down and his charisma, enthusiasm for storytelling and the fact that he is just a really nice person made it a real treat to work with him.
Andy and I addressed the challenges from different angles, and recognising this gave us both the opportunity to listen, reflect and go, 'Hey, this is great! This can further my learning, and my practice – I can take from the experiences of others to better inform what I'm doing'. So I think we both learned that we never stop learning!