28 Apr 2022
'Strategic' Education Programme to be delivered at The Meetings Show 2022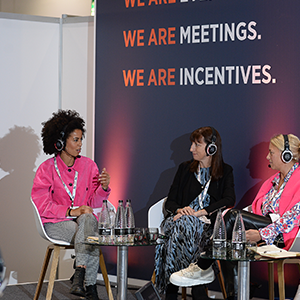 The Meetings Show, the UK's leading platform for the world's meetings and events community, has unveiled the Education Programme for its 10th edition show.
The programme, which will be delivered live during The Meetings Show at ExCeL London on 29-30 June, will feature 'strategy-focused content' delivered by industry experts, with sessions designed to support the evolution of the business meetings and events industry.
Action-led presentations, panel discussions, workshops and campfires covering current topics such as sustainability, virtual events and diversity as well as equality and inclusion, will be held on the show floor and in ExCeL London's Gallery Rooms over both days.
The 49 sessions, featuring more than 85 speakers and covering 22 hours, will be streamed into five key areas – Innovation and Trends; Technology; Meetings Design; My Learning and Personal Development and Marketing – to make it easy for buyers to select those most relevant to them.
Sessions, which will follow an opening keynote by Lord Sebastian Coe at 10am on Wednesday 29 June, will explore subjects such as the agency-client partnership, the metaverse, event marketing, data, mental health and greenwashing.
Confirmed speakers include Leah Carter, head of events, Climate Group; Warren Campbell, general manager 15Hatfields; Dale Parameter, CEO, DRPG; Dan Walker, SVP creative Ashfield Event Experiences; Rick Stainton, founder & group director, Smyle, Lou Kiwanuka, founder The Ops Nest and ESSA chair; Narmeen Kamran, event director - Desert Island Events, and Michael Begley, CEO of Venue Directory.
The Education Programme will follow the Pre-Show Conference, which returns in 2022. Open to hosted buyers, the half-day pre-show conference will take place on Tuesday 28 June with the aim of ensuring senior agency, corporate and association event planners are well-positioned to navigate common event 'hurdles' in the year ahead.
An opening keynote from Claus Raasted, director of the College of Extraordinary Experiences will be followed by sessions covering event intelligence, social sustainability and the benefits of engaging with local communities before attendees are given the chance to discuss their learnings during a concluding fishbowl session.
Erica Oghoghorie, conference, and content manager, The Meetings Show, said: "In an era of information overload, we are thrilled to bring together the greatest minds of the industry from corporations, agencies, and associations to distil strategy-focused content that counts towards establishing a shared vision for a sustainable, innovative, and equitable industry of tomorrow. Our content aims to align with the industry's new demands, break innovation barriers, and gain insight into how global players evolve, leading attendees from traditional practices to disruptive and purpose-driven ones."
The Education Programme is free to access for all buyer visitors. Non-buyer visitors are welcome to attend The Meetings Show 2022 but will need to purchase a pass to do so. For pass details, including pricing options and access to co-located shows, visit https://www.themeetingsshow.com/non-buyer-pass.
To register for The Meetings Show 2022 visit, https://www.themeetingsshow.com/register.