17 Jun 2021
Met You at The Show: Q & A with Johnny D Martinez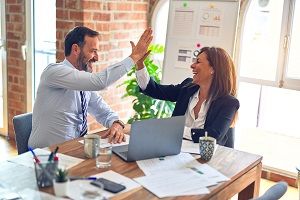 In the lead-up to The Meetings Show this year, we're thinking about the connections that are facilitated and the collaborations created that would potentially not have been possible without the power of a face-to-face event.
We caught up with Johnny D Martinez, Head of Marketing and Business Development at Shocklogic, about that one person he met that completely changed everything.
At The Meetings Show in 2019 we met Elvira Roger who came to see John (our CEO) and me after our education session as she was so inspired by what we said and felt connected with our company. A few months later, we ended up employing her and working together. For me, just that one example, highlights the impact and the magic of exhibitions, trade shows and face-to-face meetings. They get us closer to people who then became part of our Shocklogic family.
When we exhibit at events like The Meetings Show, we are usually heavily focused on finding new business opportunities and 2019 didn't disappoint, especially as we generated 219 leads. However, we believe that quality is more important than quantity. Our main goal is that we manage to inspire people so the fact that there are people at the show that may want to work with us is a surprising outcome.
Being able to have a commercial presence with our stand, have access to educational opportunities and social events within the same space, is a unique experience. The quality of these interactions is an element that digital tools or any virtual platforms cannot replace. Therefore, there should be a great focus on hybrid experiences and allowing the in-person and virtual audiences to interact.
This year, I'm looking forward to hugging people the most, and being able to say to a potential client or partner "let's go sit at this table". It's harder to do that when it's all virtual/digital. As an exhibitor, I miss the adrenaline that you feel throughout the event. We usually complain about how we've been standing the whole day, so I look forward to complaining about how little I've been sitting!
Follow The Meetings Show nostalgia campaign this month and get excited to get back to 'normal' again when you feel ready.