31 Jul 2023
The Meetings Show 2023 celebrates connections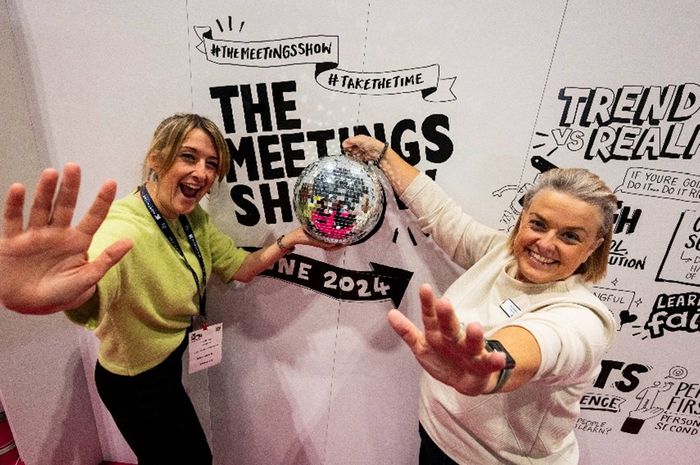 The Meetings Show 2023 welcomed a record 5,704 attendees through the doors of ExCeL, London last month.
There were 28,070 connections made via the Swapcard app, both before and during the show (28-29 June), where buyers were welcomed to #TakeTheTime to learn, network and be inspired at the leading event for the meetings and events community.
More than 600 exhibitors from around the UK and further afield, including destinations, venues, hotels and technology suppliers, met buyers from the world's leading organisations and event agencies throughout the show.
A refreshed and re-energised education experience, created in partnership with experience design experts Samme Allen, CEO of conferenceemcees.com, and renowned consultant, author and previous keynote speaker at The Meetings Show, Claus Raasted, challenged event professionals to think differently. Sessions providing insight and advice in areas such as sustainability, networking and technology, were held on two stages named Impact & Inform, and Innovate & Inspire to reflect the new focus.
Feedback from exhibitors was overwhelmingly positive with many departing the event with bookings filling their diaries and valuable leads to follow.
Zain Azrai Rashid, acting chief executive officer of MyCEB, which made its debut at The Meetings Show in 2023, said: "We believe that quality leads gained from The Meetings Show 2023 has set the momentum for a vibrant business events scene in the near future for Malaysia."
Steve Daun, head of association sales, ASM Global added: "It's a fantastic show. The number of buyers, the networking opportunities and education programme have been first class. There have been lots of really great discussions and you just feel that everything has been re-energised."
As well as meetings with exhibitors and education sessions, the show boasted a wide range of equally engaging activations, including networking drinks, clubhouse style conversations in new space the Blank Canvas and the broadcast of live interviews with industry leaders on TMS TV.
Visitors had the chance to make a positive impact on others' lives by helping to assemble 100 portable solar powered lights for children in energy poverty through a partnership with SolarBuddy and were welcomed to take time out in Eventwell's Quiet Room.
Industry newbies were taken on a guided tour of the show and given tailored education and networking opportunities through a partnership with Event First Steps as part of the show's commitment to supporting the next generation of talent.
Jack Marczewski, portfolio event director of The Meetings Show, TEAMS Europe and Business Travel Show Europe, said: "We are very aware of the challenges and pressures facing the industry and appreciate how difficult it can be for event professionals to take time out of their busy schedules, so we're thrilled that we could welcome so many of them through the doors for two incredible days.
"The Meetings Show team works hard to provide a relevant platform to support and grow the industry, so it was great to witness so many valuable connections being made and hear about so many worthwhile experiences from all who attended."
The Meetings Show 2024 will take place at ExCeL London on 19-20 June.