The Long Run: Northstar champion completes 100k charity run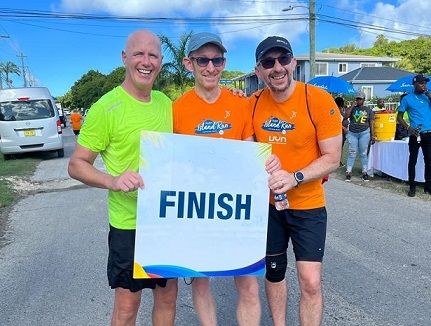 Martin Balmer of Northstar Travel Group was part of a team completing the Sandals Resorts International Foundation Island Run earlier this month.
The team ran an impressive 100km around Antigua in four days, raising a whopping £100k for SickKids Foundation and the paediatric unit of St John's Medical centre.
We caught up with Martin while he deservedly put his feet up post-run to find out more about the experience.
Congratulations on completing the run, Martin. What was the hardest part?
It was on day one of the run. All of us expected the run to be difficult, however we had no idea just how tough it would be. The distance of 17 miles, plus 32 degrees Celsius heat and high humidity really took it out of us. I wasn't drinking enough water during the run and felt completely exhausted by the end. One of the participants also became unwell halfway round and was taken for treatment to hospital. This brought home the seriousness of the challenge.
Running 100km is a long way, how much training did you do beforehand?
I run frequently and I enjoy it, but this challenge brought up two unique issues: the repetitive nature of the runs over four days and the heat. Each day in Antigua is 30+ degrees Celsius and quite humid. This is exhausting and drains the body very quickly. I trained four days a week for several months before the run, building up the distances to 10 miles each run to try and establish a high level of stamina. Every ounce was needed.
£100,000 has been raised by the runners, what will the funds go towards?
There was a total target of £100,000 to raise and I aimed to raise £5,000 on behalf of Northstar to contribute towards the total. Money has been rolling in from generous colleagues, friends and family. The money will be used to purchase vital medical equipment that will provide lasting lifesaving support for the children at the hospital.
What motivated you to take part?
It sounded like an incredible challenge and to be able to raise money for children really resonated with me. My son was born at 25 weeks in 2020 and it was a very difficult time for us as a family. This event was a chance to be able to contribute to help other families going through a similar situation.
In Antigua the hospital is desperate for modern equipment that will help them to treat children. The equipment they need is quite simply life or death for the premature babies. We saw first hand a piece of equipment supplied by the charity that monitors blood oxygen levels. Its use prevents children being administered with too much oxygen which can cause more issues. It's great to see that even small donations are making big differences.
How did you celebrate completing the challenge?
We finished the run at the Sandals hotel which hosted a wonderful beach BBQ and awards ceremony for us. As a final gesture, all the runners dashed into the warm clear seas of the Caribbean and were served cold beers to savour in the water. A fitting end.
Would you do it again?
I would absolutely do it again, especially in the knowledge that I was contributing to making a positive change. It was the most incredible experience and it was great to meet new people with a similar mindset and passion. We were all well-looked after by Sandals and the Sandals Foundation.
If you would like to make a donation, then you can do so by visiting Martin's Just Giving page.