05 Jun 2019
Insight: The festivalisation of events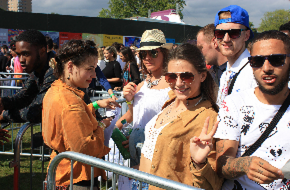 With more than 20 years of experience in events around the world, Shocklogic knows a thing or two about trends in the industry – Scarlett Clarke tells us why festivalisation is one event planners can't afford to miss out on.
Shocklogic has played an active role in the events industry for over 20 years. This has given us a diverse look into how events in different sectors are executed, highlighting both the similarities and differences. One common trend that we have noticed recently, is that 'festivalisation' seems to be appearing across all event sectors.
Festivalisation means incorporating elements of the festival experience into events. This can give serious topics, such as medical research, a new lease of life, boosting the excitement surrounding the entire lifecycle of the event. A big contributor to the online hype of an event comes down to social media, through posts, videos and images.
This phenomenon within our industry has come about largely due to the changing demographics of the delegates attending events each year. As the workforce in most organisations is becoming younger and younger, the market needs to make sure they appeal to them.
Around 40% of events professionals fall within the 'millennial' category, and they're helping to bring about the revolution of tech at various types of events, heralding a new era of social media marketing and creating experiences. Younger people tend to attend events to feel more part of the community and enrich themselves with the education that is on offer. The workforce for events globally is only getting younger, and so organisers in all sectors will need to keep up!
Another notable factor of festivalisation is that it is helping people to leave the office and immerse themselves in an entire day away. Side events really support this, with more and more conferences offering breakfast seminars, chairman lunches and networking drinks. These side events help organisers to tempt delegates, making it hard for them to say no. They would miss out on the experiences they could have, the people they could meet, and the sessions they could learn from. Festivalisation has become a creative strategy to generate FOMO among your attendees.
Creating post-event engagement is possibly one of the most important elements of festivalisation, with many organisers struggling to keep their audiences entertained between events. Festivals are experts at doing this, resharing videos and pictures from the event that their attendees can get involved with.
The key element comes in when the attendees begin to share their personal experiences, using the event hashtag. The fans create a stream of moments that can be shared with everyone. By creating an experience at your event, you then make it worth sharing for your delegates across all their platforms. Making sure you provide "Instagram-worthy" photo opportunities, by having visually pleasing displays throughout the event, increases the chances for a "throwback" post to your event!
Embracing festivalisation means:
1. Creating experiences that allow people to interact across 'arenas'
2. Designing engaging content that audiences receive from a variety of 'performances'
To learn more about how Shocklogic can help introduce festivalisation into your next event, email us at
info@shocklogic.com
.