03 May 2021
In-person meetings are a priority reveals PULSE survey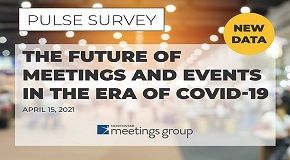 In-person meetings are a priority again, according to the latest PULSE survey results. The survey, run by Northstar Meetings Group revealed that booking live or hybrid events is now the primary job function of nearly one in five planners (19%), a 50% increase since early March. Of those whose primary focus now is booking new, in-person events, 29% are with associations, association management companies or non-profits. Third-party and independent planners are close behind, making up 25% of that segment. Among corporate planners, the bulk of the action (25%) is coming from pharmaceutical and health-care businesses.
While enthusiasm for in-person events is growing, hybrid events are still popular. Slightly more respondents (51%) said they were currently planning or intending to hold hybrid meetings than they did in March (48%).
The survey revealed that 80% of planners will hold their next in-person or hybrid event this year. The biggest chunk of that business (32%) will take place in Q3, with another 27% in Q4.
The PULSE Survey, launched in March 2020, captures evolving planner sentiment as our industry responds to challenges brought on by the global pandemic.
To see all results of the latest survey click here