08 Sep 2021
Exhibitor Spotlight: AIUIa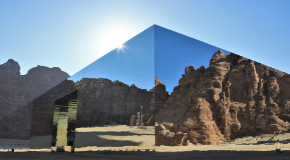 Why AIUIa is the perfect location to hold your next meeting/event
Meet in AlUla. As Saudi Arabia welcomes international business and leisure travellers, this boutique destination offers a unique, new and exciting proposition to hold your next meeting or event. Providing a state of the art and world-record-holding venue, monumental landscapes, unique adventure experiences and activities supported by professional event organisers applying international quality standards.
Located in northwest Saudi Arabia, 683 miles northeast of Riyadh, AlUla is a place of extraordinary natural and human heritage including, a lush green oasis, towering sandstone mountains and over 200,000 years of human history. It is home to four significant, and fascinating heritage sites: the UNESCO World Heritage Site of Hegra, Jabal Ikmah with its ancient inscriptions and rock art, Dadan the capital of the ancient Kingdoms of the Dadanites and Lihyanites and AlUla Old Town.
Maraya is located in the Ashar Valley, just 15 minutes away from three of the four Heritage sites, with an amazing new event venue and a modern wonder in a place of ancient wonders. Maraya, meaning mirror in Arabic, has over 9,740 square metres of exterior mirrors, that reflect the surrounding natural landscape of the valley and makes the building look as if it is built of sand and stars. Designed by Italian architect Florian Boje of Gio Forma, the building was named the world's largest mirrored structure in January 2020 by the Guinness Book of Records.
The venue offers a unique proposition for businesses to 'mirror' their brands and aims to become a centre of culture, commerce, music events, global conferences and innovative exhibitions. The 26-metre high theatre seats 550 people and faces a retractable 800 square metres that can open directly to nature, seamlessly blending environment and entertainment. Maraya supports the emergence of AlUla as a global cultural centre, combining ancient culture with modern art, hosting highly anticipated performances, VIP experiences and pop-up events, including concerts by global superstars such as Andrea Bocelli and Enrique Iglesias, the first Hegra Conference of Nobel Prize Laureates 2020 and recently the successful 2021 GCC Summit.