22 Jan 2020
Insider View: UK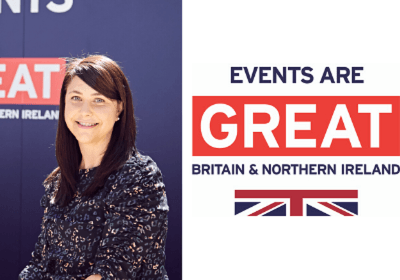 In our new feature we join Fiona Macdonald of VisitBritain in taking a behind-the-scenes look at what is going on in the UK's MICE industry and gain a greater insight into what we can expect from UK-based exhibitors at The Meetings Show this year.
The UK is a global economic hub and host to world-leading events, which attract organisers and delegates from around the world, coming to experience first-class venues, seamless infrastructure and a wealth of hidden gems.
Many of the UK's major convention bureaux and leading conference venues exhibit at The Meetings Show 2020, giving visitors the chance to find out more about the country's hottest offerings.
Ahead of the show, Fiona Macdonald, senior manager Business Events at VisitBritain and The Meetings Show advisory board member, gives the insider view on the UK, looking at why the country offers planners the full package, rounding up the latest news from UK regions and venues exhibiting at the show and sharing her top tips for getting the most out of your visit.
Event organisers and delegates are continually drawn to the UK for many reasons, but one of the main ones is because of what can be achieved when they meet here. The meeting of minds in the UK led to the creation of the first computer, the splitting of the atom, the invention of the jet engine and the discovery of DNA.
A global economic hub, the UK is the world's fifth largest economy and is one of the world's top five innovative countries. It has the largest life sciences sector in Europe and is home to four of the world's top 10 universities.
Over 14,000 incredible venues, including modern convention centres, beautifully restored historic buildings and luxury rural retreats are available to host meetings, conferences and events of all sizes, and there's no shortage of accommodation, with more than 45,000 hotels providing beds for international and domestic visitors.
The UK is also easy to reach. It hosts 40 commercial airports that have 100s of international airlines operating direct flights from 410 cities worldwide. And when you're here, a vast and efficient rail network and 2,500 train stations seamlessly connects all corners of the country.
But it's not all work and no play. The UK is bursting with incredible leisure experiences if you wish to enhance, or lengthen your business visit. The nation boasts over 3,000 museums and galleries, 28 UNESCO World Heritage sites, 15 beautiful national parks and 170 Michelin-starred restaurants. There's something for everyone.
There's so much on offer in the UK, which you can find out more about at The Meetings Show, where VisitBritain will proudly join many UK destinations and will be ready to give buyers a warm welcome to the UK.
The show brings together the UK's meetings industry under one roof and is a great opportunity for us to personally connect with buyers and showcase the full breadth of the UK's diverse MICE offering.
There is so much to see at The Meetings Show, and my top tip to those visiting is to seek out what you don't know. Take time to learn about the lesser known destinations. I guarantee you'll be delighted by what you find.
With so many UK destinations at the show – from Scotland, Wales and London, to Newcastle, Nottingham, Bournemouth and Kent, it's a great opportunity to discover some hidden gems.
Want to find out about the latest activity from the UK's destinations and venues? Read on as we take you around the UK's major MICE news in nine steps:
Mad for it: Manchester has strong ambitions to grow its business tourism by 40% by 2025 which it says would generate an additional £345m to the regional economy. The northern city outlined its plans in its Business Tourism Strategy in June 2019 and is more than ready to put up a growing number of delegates, with 20,000 new hotel rooms added in the last year at hotels such as the Dakota and Native. Find out more at Manchester Convention Bureau's stand where they will be accompanied by six partners from across Greater Manchester – Manchester City Football Club, Marriott Manchester cluster, Hyatt Regency Manchester and Hyatt House Manchester, EventCity, The Principal Hotel, and The Lowry Hotel.

Hotels for London. The highest ever number of hotels and hotel rooms are set to open in the UK capital this year according to London Convention Bureau. Total additions to the London hotel market across 2019 and 2020 are expected to reach 121 hotels with 14,480 rooms, a record two-year period for increasing supply of hotel rooms. The range of unique and exciting new hotels will provide meetings, events and incentive planners with further choice for accommodation and meetings venues.

Creative first: Telford International Centre has launched what is thought to be an industry-first, by creating a short film that not only showcases the venue and its services, but also delivers a story of intrigue and a nail-biting race against time. Filmed entirely on location at Telford International Centre and produced as a highend cinematic experience, the film showcases the venue while also working as a standalone piece of entertainment.

Game-changer: Event organisers keen to find out more about plans for Newcastle's 'game-changing' £260m arena, conference and exhibition centre should head for NewcastleGateshead's stand at The Meetings Show. The contract for the 80,000 sq ft development at Gateshead Quays has been awarded to Sir Robert McAlpine with plans set to be submitted this year so that the arena can open in 2023. When it opens the venue will include a 12,500 capacity arena, conference and exhibition centre, two hotels, bars, restaurants and car parking – and will set the standard of excellence in England's north east.

Food for thought. Lime Venue Portfolio, the UK's largest portfolio of diverse, unique, sporting and cultural meeting and event venues, has led research into one of the most important aspects of any event: Food. Through six reports, the company is examining areas such as food waste, growing interest in plant-based options and food's impact on mental health. Visit them at the show to find out more about their reports and for information on their wide range of event venues.

A breath of fresh air. Visit Wales has declared 2020 as the Year of the Outdoors. This latest thematic year will reinforce the country's renowned strengths in everything from outdoor pursuits, sports and adventure to mindfulness and wellbeing and celebrate the country's outstanding natural landscape and wealth of outdoor experiences. It follows the release of a report by the newly-opened International Convention Centre (ICC) Wales which looks at how the natural world can enhance a business events experience.

And they're off. Newbury Racecourse in Berkshire will be sharing details of its conference and event spaces at this year's show. The venue, which has completed a £50m redevelopment, is set amongst 225 acres of natural beauty. It offers over 50 unique event spaces across the site, including the brand-new Owners Club conference centre for up to 250 delegates.

Making things better. Derby in England's East Midlands is a hotbed of new MICE development in the city and the city's convention bureau, Visit Derby is proud to welcome a number of new conference and events venues, following significant investment. They include the new Museum of Making, which will offer conference and events space in its Civic Hall and the re-opening of the Derby Assembly Rooms.

Ongoing innovation. In 2019 the UK's MICE offering went up a gear with the opening of P&J Live in Aberdeen and ICC Wales in Newport. This year is set to bring more innovation with the opening of the £25m Blackpool Winter Gardens in the north west of England. The £25m centre will accommodate up to 1,500 delegates and provide direct links to the famous Blackpool landmarks the Empress Ballroom and Opera House Theatre.