28 May 2021
What's Hot: London / Experiences / Sports stadia. What's Not: Side-lining sustainability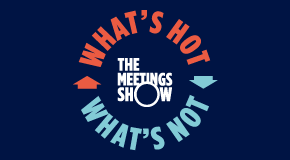 The latest What's Hot, What's Not - The Meetings Show's dive into the latest trends and developments from the world's business meetings and events community - is one any self-respecting event professional will want to bookmark. This month, England's capital city and sports stadia are seriously sizzling. The return of face-to-face has also ignited interest in adding experiences to meetings, conferences and events. With World Environment Day on 5 June, the time is now to focus on sustainability, which is why we think side-lining this important issue is bad news.
To find out more about 'What's Hot and What's Not' this June, read on.
What's Hot
London
'Let's do London' says London Convention Bureau as it launches a campaign to shine a spotlight on the city's diverse range of attractions, venues, hotels and meeting spaces, which can be enjoyed by visitors in a safe and responsible way. The city is certainly coming alive again. After months of restrictions, London is finally open to meetings and events, including UEFA Euro 2020 which takes place from 11 June to 11 July.
As one of football tournament's host cities, London will be home to two semi-finals before the final takes place at Wembley Stadium.
There have also been developments in London's hotel sector over the last year, including work on Edwardian Hotels' new 16-storey property The Londoner, which opens in Leicester Square in September. The hotel includes a meetings area and ballroom, which includes the latest tech – from lighting to media capability, rigging, screens, access to private screening rooms and a wealth of pre-and post-function space for breakouts or private functions.
Other London hotels which have undergone recent refurbishments include Hilton London Metropole, Holmes Hotel, Marriott Grosvenor Square and how London Hotel – with lots of exciting new packages, rooms, events spaces and restaurants on offer.
Experiences
This last year has been a tough one for the industry with hardly any face-to-face meetings and events able to take place. Many have used this time to reflect on what's important in life and used the breathing space to enhance our wellbeing, develop new skills, or simply add a daily walk in the fresh air to our routine.
As the big return is planned, therefore, there's a feeling that we'll be wanting to hold onto some of these and will expect something different from future event attendance. Hotels with meetings and events space in particular are tapping into this mood and have developed meetings packages designed to make attending a meeting, conference or event more of an experience.
Arora Hotels Group's Fairmont Windsor Park, which opens later this summer for example, is encouraging delegates to take some time out between meetings in its wellness spa, or take a stroll around its 40 acres of landscaped gardens. The 200-bedroom hotel also has seven 'delectable' dining offerings on site to deliver a gourmet experience to guests and delegates who may have honed an appreciation of good food during lockdown, or have simply had enough of cooking for themselves and are looking to indulge.
Dining spaces include the Orchid Tea Room, a tea lounge serving delectable afternoon tea; 1215 at Fairmont Windsor Park, a fine dining restaurant and sophisticated Champagne bar; Moreish, an all-day dining restaurant with dishes skilfully prepared with locally sourced ingredients and The Library Club for an intimate and relaxed drinking experience.
Sports stadia
Event planners have increasingly been looking for meeting and event spaces with the ability to not only meet their practical requirements, but also provide something a little special. Now, any venue holding meetings and events also needs to consider social distancing and other COVID-secure factors.
One venue category growing in popularity because it meets all these needs (and more) is sports stadia. Sporting venues are well-versed in hosting large-scale popular events, like football matches, or music concerts, so have facilities to cope with high capacities while also being able to easily factor in COVID-secure measures.
The added prestige from holding a meeting or event at a location like the legendary Wembley Stadium or Stamford Bridge, the home of Chelsea FC – both exhibiting at The Meetings Show 2021 – is another reason why we've kicked sports stadia onto our 'What's Hot' list this month.
What's Not
Side-lining sustainability
We'd be forgiven for overlooking sustainability – arguably one of the hottest topics of the past few years – during the last 14 months or so as much of our focus has been on protecting our health and safeguarding business. However, as we emerge from lockdown and start to plan for the future and the growth of the industry, it is essential that sustainability is put back on the agenda.
As Therese Dolan writes in her article 'Why sustainability needs to be part of the industry's comeback', the sector must continue the work around sustainability that many businesses had started pre-pandemic, whether that was removing single-use plastics, reducing emissions or cutting food waste (or all of them).
"There is also the looming deadline for delivering the net-zero United Nations Sustainable Development Goals by 2030, leaving businesses with only a few years to take decisive action on sustainability and commit to reaching these UN targets," she writes. "The way countries stimulate their economies after COVID-19 lockdowns will have a major impact on future emissions, and our industry will have a key role to positively influence this."
With World Environment Day falling this month (5 June) with its message to 'reimagine, recreate and restore' our planet, there's an added impetus to revisit sustainability targets, or build new ones into any business plan. We all have a duty to rebuild the planet and that includes through our businesses. So, as we plan ahead, it's no longer OK to stick sustainability on the side-lines.