02 Mar 2022
What I've learnt with Olivia Mincher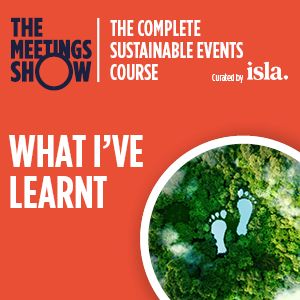 We're all aware of climate change and that there's an urgency to address it, but how can we in the meetings and events industry play our part? To provide inspiration and guidance, we speak to The Complete Sustainable Events Course students to find out what they learned and gain their top tips for working more sustainably.
What I've learnt: Olivia Mincher, Account Executive, First Event
The main thing the course taught me is that change doesn't just happen by focusing on major areas such as carbon offsetting, but also through the small steps we take as individuals. Whether that be in your working or personal life, there is always a more sustainable way that can have a greater impact.
As an event manager, we thrive to create these unforgettable experiences for people, yet it is important to consider that we can do this and be mindful of the footprint we leave after an event. This could be anything from offering set menus rather than buffets at live events to reduce food waste, or working with suppliers to understand their sustainability goals and policies. All of these small steps can make a big difference.
However, it takes education and training to get it right, which is what The Complete Sustainable Events Course has provided. At First Event, we have a huge sustainability drive this year, looking at ways in which we can be more sustainable as a company in order to show clients that we 'practice what we preach'. We have set targets to become a Net Zero organisation by 2023 and to expand our knowledge of sustainable events by working with programmes to educate our team to actively promote sustainability and social responsibility with our clients.