27 Jan 2022
What I've learnt with Fay Parkhill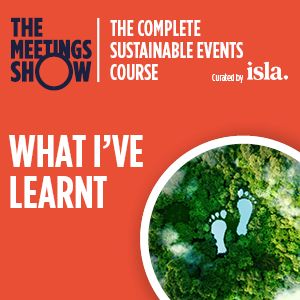 We're all aware of climate change and that there's an urgency to address it, but how can we in the meetings and events industry play our part? To provide inspiration and guidance, we speak to The Complete Sustainable Events Course students to find out what they learnt and gain their top tips for working more sustainably.
What I've learnt: Fay Parkhill, Project co-ordinator, Oddity Events & Marketing
Since enrolling on The Complete Sustainable Events Course, it's hit home how much we are impacting our planet; I can no longer think my actions won't affect future generations.
The course demonstrated that we can all take small steps to reduce our carbon footprint in both our personal and professional lives, and for those of us in the events industry, we have the power to 'change the brief' and drive change. This concept was developed by Mindshare and encourages us to respond to briefs with solutions that focus on a more sustainable future and to challenge clients to take a sustainable direction before starting the planning process to create a more environmentally friendly event which still meets their objectives. Food, materials and travel are just some areas for consideration; tote bags full of single-use swag come to mind!
At Oddity Events & Marketing, we are excited to work with our clients to 'change the brief' and create more sustainable experiences. Quick wins include travelling more efficiently, encouraging primarily vegetarian menus at events, selecting venues that prioritise sustainability, and using fewer printed materials. These are all easy-to-implement steps that we will continue to develop as we progress our sustainability journey!