23 Mar 2022
What I've learnt with Megan Urwin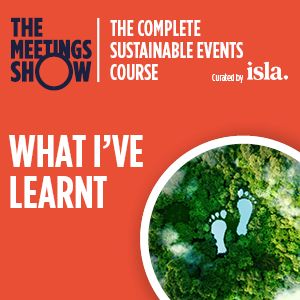 We're all aware of climate change and that there's an urgency to address it, but how can we in the meetings and events industry play our part? Tomorrow's Talent 2020 winner Megan Urwin tells us what she found most valuable by following The Complete Sustainable Events Course.
What I've learnt: Megan Urwin, Tomorrow's Talent winner 2020 and Account Executive, First Event.
Now that the industry is seeing a huge rise in live and hybrid events, it is vital that sustainability is at the forefront of the event planning process. As we know, events can generate an extraordinary amount of waste, leave a large footprint and use finite resources that, put simply, the earth cannot afford to spare.
Previously, I found it difficult to find any existing framework or policies in the industry that support with the delivery of sustainable events. How do you go about it? However, The Complete Sustainable Events Course gave me a comprehensive and thematic approach to sustainable events, and now I know where to start.
I learnt how to ask the right questions at the point of the initial enquiry, so sustainability could be built into the event planning process, through to how to produce a full carbon report.
Now equipped with the knowledge and resources, we feel empowered as a company to make smart and impactful decisions to reduce our event emissions. Helping the planet and our clients alike. We now work closely with several sustainability suppliers and produce carbon reports on all events as standard.