What I've learnt with Amber Crighton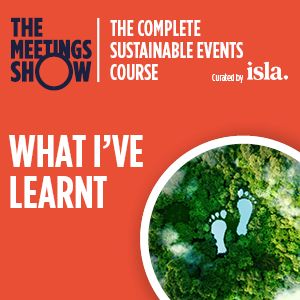 We're all aware of climate change and that there's an urgency to address it, but how can we in the meetings and events industry play our part? To provide inspiration and guidance, we speak to The Complete Sustainable Events Course students to find out what they learnt and gain their top tips for working more sustainably.

What I've learnt: Amber Crighton, Marketing Associate (Events), EMEA Marketing Yardi Systems Ltd

I was very conscious of the impact that our events can have on the environment and wanted to be able to make a difference, so I was specifically looking for a course that would help me know where to start.

One of the key things I learnt on The Complete Sustainable Events Course was the importance of asking the right questions from the very start. It's much easier to make sustainable decisions at the beginning of the planning process than it is retrospectively when you have already chosen your destination and contracted your venue.

The course has given me the knowledge and confidence to have those conversations with venues, and know what questions to ask, from looking at their energy usage and making sure they dispose of recycling in the correct way, to creating more sustainable menus by reducing meat consumption and increasing plant-based options.

I am also now more conscious of choosing event destinations that have sustainable strategies in place and promoting sustainable transport options to and within those locations.