12 Dec 2018
WELCOME TO PENANG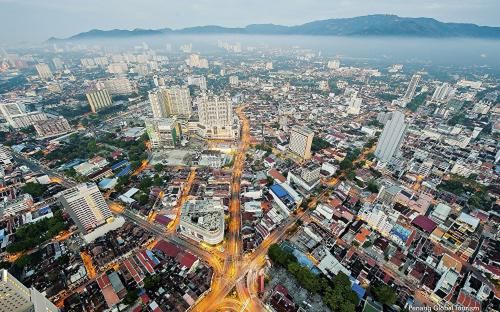 The Meetings Show is back on tour in anticipation of the 2019 show – for our first stop, we head to Southeast Asia to find out about the MICE market in the culturally-rich state of Penang.
In northern Malaysia there lies an area that offers the rare combination of state-of-the-art conferencing facilities with geographical gems, such as a 130-million-year-old rainforest and secluded beach. Add to this its rich history, cultural diversity and an authentic street food scene that would be the envy of any city in the world and you surely have a location that's a serious contender for your next event.

The state of Penang, stretching across both peninsula Malaysia and Penang island, is a relatively small area, yet really packs a punch in terms of its MICE offering and environment.

"Penang is the ultimate 'Experiences Unfiltered' destination where we provide both facilities and capacity, as well as merging it with what the destination has: the Penang Factor," says Penang Convention and Exhibition Bureau (PCEB) CEO Ashwin Gunasekeran.

While it describes itself as a 'modern international city undergoing rapid development', Penang is also a green city where the aforementioned rainforest blanketing the area known as Penang Hill, forest reserve Penang National Park, and the secluded Monkey Beach allow delegates to easily escape the hustle and bustle of a busy exhibition or provide inspiration for incentive travel.




For event organisers seeking venues for large conferences or exhibitions you're in luck, as 'go big or go home' seems to be the mantra for Penang's convention centres.

The Subterranean Penang International Convention and Exhibition Centre (SPICE) is the largest outside Malaysia's capital city Kuala Lumpur and is also the world's first and only hybrid solar-powered convention centre. It also includes an indoor stadium, retail and F&B space, an Aquatic Club and a 25-storey 453-bedroom hotel due to be completed in 2020.

It's second largest – Penang Waterfront Convention Centre – will encompass 25,300 square feet of space when it is completed in 2021.

These large venues with flexible facilities are already proving a big draw for event organisers around the globe, says Gunasekeran.

"Penang hosted more than 2,000 business events in 2017, with the largest convention hosting 16,000 delegates from 70 countries," he says.

Penang may be nestled away in a corner of Malaysia, but it is easily accessible directly from 50 countries with 203 international and 396 domestic flights into Penang International Airport, while direct flights from major airports with connections further afield – namely Kuala Lumpur, Singapore, Bangkok and Doha – open it up to the rest of the world.




Once there, an integrated public transport system connects the Rapid Penang bus services with high-speed rail and the ferry, facilitating easy access between conference centre, hotel and restaurant.

And speaking of food, Penang caters for all tastes and occasions, but many say you'll find the best eats at one of George Town's hawker stalls or food markets. There you can indulge in a bowl of Assam laksa – a spicy-sour fish broth with noodles which is listed as number 7 on CNNGo's World's 50 Most Delicious Foods.

As Gunasekeran says: "Penang offers more than just a business events destination and conference venue, it also provides you with great hospitality, unforgettable experiences and unexpected surprises.

"Besides that, Penang speaks a common language – hospitality – which translates to modern convenience for delegates in getting around. The friendly people of Penang are always ready to welcome our visitors and Penang is always equipped with complimentary high-speed wireless internet everywhere which makes it a digital nomad paradise."

Did you know?
Penang's capital, Georgetown, was named after King George III of Great Britain. It was the first city in the Federation of Malaya and is now a UNESCO World Heritage Site.
Malay is the official language in Penang, but English is widely spoken due to the fact the island was the first in Southeast Asia to be colonised by the British. English is also the language of business and commerce. Locals speak an interesting blend of Malay and English – Manglish – with 'Lah' often found peppering English sentences.
Penang is a melting pot of ethnicities, cultures and religions, which can be best seen in Georgetown's 'Street of Harmony' where the Indian Muslim Kapitan Keling Mosque, the Chinese Kuan Yin Temple, the Anglican St. George's Church, the Hindu Sri Mahamariamman Temple, the Catholic Cathedral of Assumption and the Chinese clan house Khoo Kongsi sit comfortably along the same street.