30 Jan 2019
WELCOME TO ABERDEEN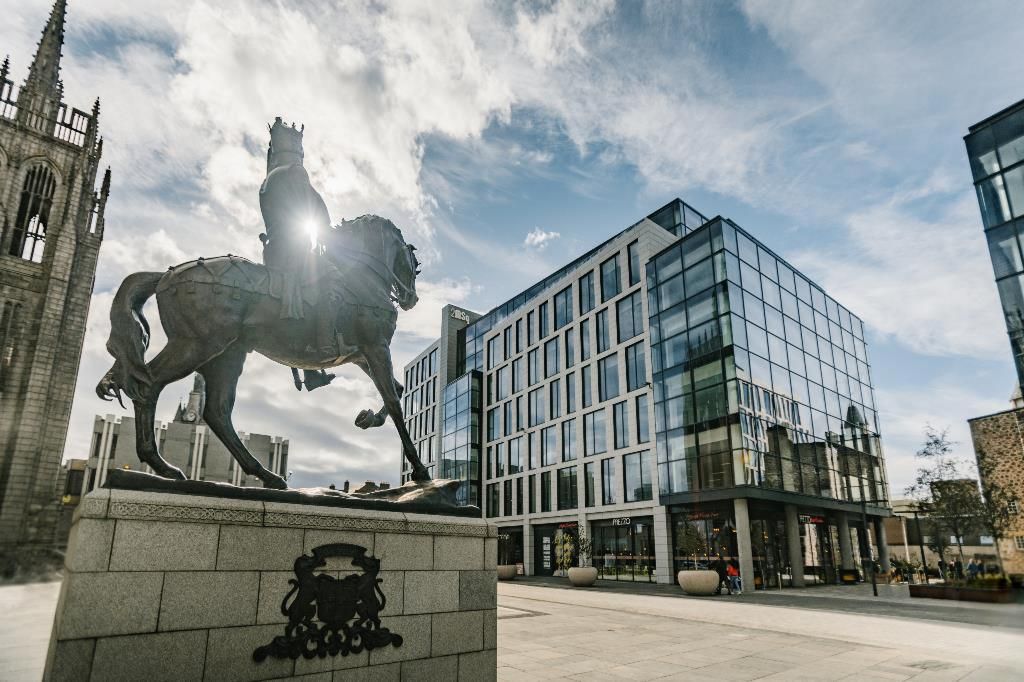 Huge investment in its MICE facilities is helping to make Aberdeen, the well-connected former oil capital of Europe, a region of renewed interest for event organisers.

Thanks to its former position as the oil capital of Europe, Aberdeen is already a popular place for conferences and events, but instead of sitting back and watching the visitors flood in, this city in the north east of Scotland has kept on its toes and continues to invest in and develop its MICE facilities to attract event organisers from the UK, Europe and beyond.
This autumn the granite city will unveil a £333m exhibition and conference centre, The Event Complex Aberdeen (TECA). This 48,000 square metre multi-purpose event space with seven conference suites, three exhibition halls, nine meetings rooms, and an arena with a capacity of 12,500, is not only a big deal for Aberdeen, but for Scotland too, says Laurie Scott, head of events and convention bureau at VisitAberdeenshire.
"TECA will be the largest entertainment arena in the North of Scotland and will help Aberdeen deliver world-class exhibition facilities for organisers and delegates across the globe. It will also be sustainably powered by local, renewable energy sources. It will be a real game-changer," he says.
TECA managing director Nick Waight adds: "TECA is the largest ever single investment in a venue in the UK and reflects the ambition of Aberdeen City Council to diversify the local economy and bring an opportunity to add real value to the city, region and to Scotland as a whole. It boasts an impressive airport location, contemporary design and will be very eco-friendly."
Alongside the creation of TECA, there has been widespread investment in existing venues; Aberdeen Music Hall – shut for two years – underwent a £7m renovation and re-opened last year, while Aberdeen Art Gallery is having a £30m upgrade and will provide space for gala dinners, meetings or presentations when it re-opens this year.


The city is also home to two distinctive university campuses and numerous hotels with MICE facilities, so has plenty of choice to cater for all styles of events, says Scott.
While Aberdeen will have an enviable conferencing and event offering by the end of the year, it is the city's connectivity, its plethora of hotels and surrounding countryside which strengthen the region's appeal.
Due to its oil and gas industry roots, infrastructure is strong and the city has connections to more places than would usually belie one of its size. More than 20 flight routes connect Aberdeen to European airports every day while 62 daily flights go to the UK. This can only improve further with the £50m expansion of Aberdeen Airport.
"We're in a fantastic location and are extremely well connected," says Scott. "For example, four flights a day go to Schipol Airport which has further connections to Europe."
Once there, navigating the small city is easy and there's no shortage of places to stay. Alongside the current offering, encompassing 7,000 bedrooms, there are three new hotels which have just opened, or are planned to open this coming year. The 218-bedroom Sandman Signature opened in the city centre at the end of 2018 while a new 200-bedroom Hilton and a 150-bedroom Aloft Hotel will open within TECA later this year.
"There's a breadth of great hotels in Aberdeen – from high end to budget – and they are all exceptionally good value," enthuses Scott.


Aberdeen's compact size and new conferencing facilities make it a strong contender for those looking to complete business swiftly, but its location within the Aberdeenshire region also allows those with a little more time on their hands to engage with life outside the meeting room.
Aberdeenshire includes the Cairngorm National Park, 55 golf courses and some stunning beaches, meaning it is great for active incentives or simply for those looking to clear their heads in the great outdoors. History buffs can complete Europe's largest castle trail and take in some of Scotland's most fascinating buildings, while food and drink fans have the choice of eight whisky distilleries to visit – including many of Scotland's most iconic, like Macallan and Glenfiddich. Independent craft brewer Brewdog also has its headquarters in Aberdeenshire and offers brewery tours.
"We're a renewed region, with a great proposition, we're well-connected and even have some beautiful beaches nearby. Balmoral's (the Queen's Scottish residence) on our patch and so the royal family are here a lot of the time. It's a region worthy of royalty so that has to say something," says Scott.
Kevin O'Sullivan, Editor of EventsBase further adds:
"Aberdeenshire is one of Scotland's hidden gems. Most people opt to head up the west coast as they believe that is where the drama, both in ancient history and of scenic beauty, lies. Wrong. This beautiful east coast shire is the home to more castles per square acre than anywhere else in the UK – 263 of them to be precise. From Craigievar Castle, said to be the inspiration of Disney's own fairytale castle, to Cluny Castle, which was a filming location for The Queen, there are literally countless ways to fortify yourself in this region – and I'm not just talking about the whisky. Add to that the fact that you can also access the stunning Cairngorms National Park, which is twice the size of the Lake District, and you'll quickly understand why this peaceful and bountiful part of the country has for so long been a playground to the Royals."
Key facts:
The £333m being invested in The Event Complex Aberdeen (TECA) is the largest ever single investment in a venue in the UK.
Aberdeen boasts 7,000 hotel rooms with another 1,500 coming online in the next three years.
There were 1,332,000 overnight stays in Aberdeen and Aberdeenshire in 2016.
29 of Scotland's top 100 businesses are based in Aberdeen.
62 UK flights and 22 European flights fly from Aberdeen daily.
Aberdeenshire hosts 55 golf courses, including Trump International Golf Links
Eight whisky distilleries are located in Aberdeenshire, including Glenfiddich and Macallan.
Europe's largest castle trail, comprising of 13 castles, is based in Aberdeenshire.
An investment of £350m is being made into Aberdeen Harbour, making it cruise ship ready by 2020.
The region has undergone £6.1bn of investments in transport, infrastructure and connectivity.
And finally, did you know?
Aberdeen's famous nickname is the 'granite city' because many of the buildings constructed during the mid-18th to mid-20th centuries incorporated locally quarried grey granite. More than 50 per cent of the material used in the city's buildings is thought to come from Rubislaw Quarry in Aberdeen's west end.Granite from quarries in Aberdeen has also been used in the Houses of Parliament and Waterloo Bridge.
John Macleod, who went to school in Aberdeen and graduated from the University of Aberdeen with a degree in medicine, played a key part in discovering insulin, helping diabetics across the world. Macleod was part of a small team of scientists who discovered and isolated insulin while at the University of Toronto. He and Frederick Banting later went on to receive the 1923 Nobel prize in Physiology or Medicine.
Aberdeen is number one in Scotland and one in the top 10 UK city regions for business start-ups and 29 of Scotland's top 100 businesses are based in the city.