16 Nov 2022
Top 5 things to take note of
Don't have time to keep up with what's happening in the MICE world? Don't fear, The Meetings Show has you covered. Here's everything you need to take note of this month.

1) Survey signals bright future for industry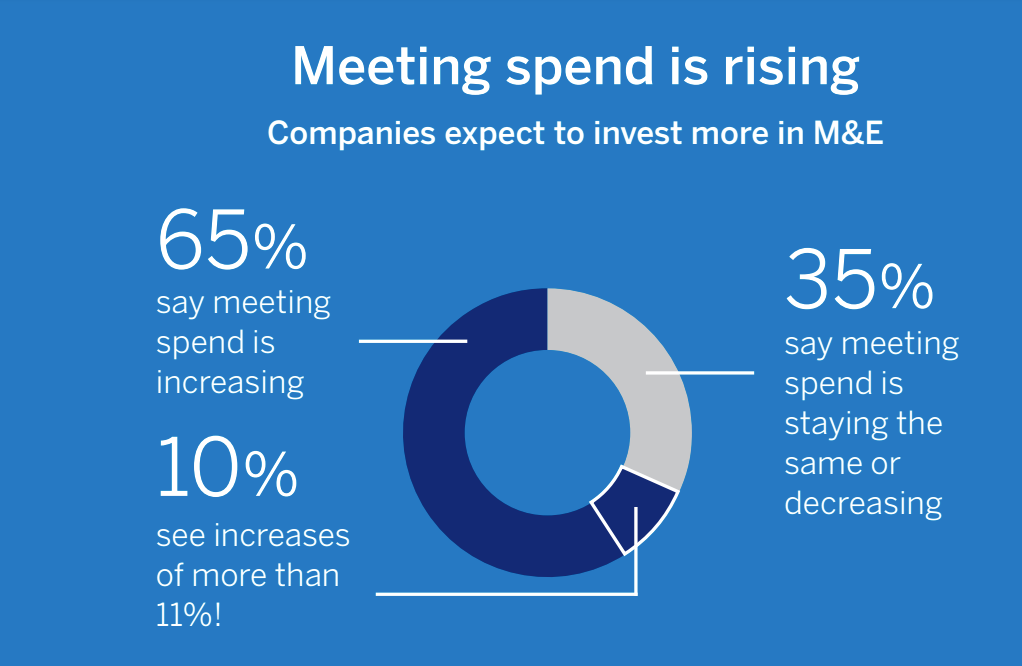 75% of planners expect M&E spend to increase in 2023.
The meeting and event industry is experiencing an unprecedented recovery and all signs point to a busy 2023, according to the latest Global Meetings & Events Forecast by American Express Meetings & Events.
In addition to higher budgets, Amex forecasts more meetings and events, and more attendees, but also higher rates. Amid all the action, the report states that a new focus on partnerships, sustainability, diversity, equity and inclusion, and technology is underway. The forecast is based on a survey of 580 meetings and events professionals from around the world and interviews with industry leaders.
2) Route to Net Zero Events ramps up
Net Zero Carbon Events launched its roadmap for the events industry at COP27 at Sharm El-Sheikh in Egypt on 11 November – Decarbonisation Day.
Some 225 operators, including The Meetings Show, have signed the Net Zero Carbon Events Pledge since its launch at COP26 in Glasgow in November 2021, committing to publish before the end of 2023 their organisation's pathway to achieve net zero by 2050 at the latest, with an interim target to reduce global greenhouse gas emissions by 50% by 2030.
The roadmap, co-ordinated by the Joint Meetings Industry Council, includes a document of more than 80 pages with comprehensive information on how to implement action to achieve net zero.
3) Liverpool prepares to party after Eurovision win
Liverpool sets the scene for what it promises to be an electric, extraordinary, meaningful and thought-provoking Eurovision 2023, as it shares what winning the bid means to the city and its people in a celebratory video.
The destination, which was selected as the host for the 67th Eurovision Song Contest following a tight race with Glasgow, was praised for its world-class facilities including the M&S Bank Arena and ACC Liverpool, the innovation behind its cultural programme, the plans to celebrate Ukrainian people and community and the 'walkability' of the city.
The Grand Final of the Eurovision Song Contest 2023 will take place in the Liverpool Arena next to the River Mersey on Saturday 13 May with Semi-Finals on Tuesday 9 and Thursday 11 May.
4) ICC Wales keeps spotlight on Martyn's Law
ICC Wales has launched a cross-sector Protect Duty Events Industry Group, which will aim to prepare the UK events industry for the Government's proposed Protect Duty legislation, also known as Martyn's Law and expected to come into effect in 2023.
The legislation formalises the responsibilities and actions that venues must take to mitigate the risk of a terrorist attack and will have a significant impact on how both venues and organisers put safety and security measures in place.
The launch of the new industry group follows an informative content session hosted by ICC Wales at The Meetings Show in June, where the venue shared results from its Protect Duty Report, which showed that 77% of respondents had very low or low knowledge of what the legislation meant.
5) Five hot event destinations for 2023
Edinburgh, Nashville, Reykjavik, Singapore and Lima have been highlighted as five of the most popular event destinations for the year ahead, according to global agency BCD Meetings & Events' What's Trending 2023 report.
The report highlights Scottish capital Edinburgh for its unique contrast of rich history and contemporary culture that attracts groups from across the world, while country music mecca Nashville is picked out for its great neighbourhoods and cultural and being the ideal base to explore the rest of Tennessee.
Planning an event in Reykjavik allows delegates to experience Iceland's magical natural landscapes combined with the charm of a European capital city, according to BCD M&E. Singapore is praised for its strong green credentials, while Peru's capital Lima is becoming a top destination for regional events thanks to its strategic location at the centre of LATAM, colourful colonial architecture and gastronomic reputation.