11 Nov 2020
Exhibitor spotlight: Singapore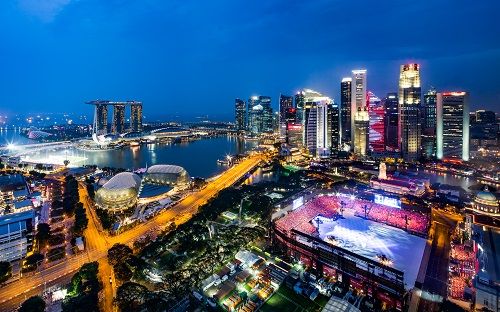 Jason Chan, Area Director Northern & Western Europe, Singapore Tourism Board gives the lowdown on Singapore and its MICE facilities following the destination's participation in The Meetings Show.
Why do you think Singapore is such a popular destination for business events and meetings?
Singapore is located in the heart of South East Asia and is very well-connected to the rest of the world. Known for its accessibility, Singapore's award-winning Changi Airport is serviced by more than 120 airlines which fly to almost 420 cities in 100 countries. There are few visa requirements and with English one of its national languages, communicating is easy. Our event venues can accommodate all types of groups and all sizes, and our hotel capacity is 70,000 rooms with 420 hotels, all categories ranging from the international hotel chain to smaller boutique hotels. Beyond the wide diversity of landscapes and experiences, Singapore also offers many possibilities in terms of activities: from sport to cultural, culinary, and artistic activities there is something for everyone in Singapore, a place where passion is made possible. The majority of activities and attractions are very well suited to accommodate groups regardless of size.
Can you tell us about some of the latest and forthcoming developments in Singapore?
Singapore's businesses, in close consultation with the Singapore Government, are adhering to rigorous standards of safe management and hygiene. Many are being certified under SG Clean, a mark of excellence for tourism businesses that adhere to heightened standards of cleanliness and sanitisation. As of 18 September 2020, more than 22,000 individual premises have been certified island-wide.
Singapore Association of Convention & Exhibition Organisers & Suppliers (SACEOS), with the support of Singapore Tourism Board (STB) and Enterprise Singapore (ESG) have also developed an Event Industry Resilience Roadmap (IRR), which will help the local events industry establish best-in-class standards for event safety and hygiene, and adopt agile business models with a focus on the hybridisation of events. This month, applications to pilot MICE events of up to 250 attendees have begun. Singapore's Ministry of Trade and Industry (MTI) will review all MICE event proposals, and event organisers may proceed only upon obtaining MTI's approval. There will be pilot events taking place under this arrangement, such as the Singapore International Energy Week (SIEW) Conference. Organisers who apply to pilot events with up to 250 attendees must demonstrate their ability to implement Safe Management Measures to meet a set of health and safety outcomes.
Looking ahead, 2021 will also see the opening of a new hotel that will be a showcase of environmental sustainability in Singapore. Pan Pacific Orchard is the group's first zero-waste hotel with four levels of soaring gardens that will redefine vertical sky-rise typology. The hotel, located along Singapore's famed Orchard Road, will feature 350 eco-friendly rooms, a rainwater harvesting system, a recyclable water system, and a compactor that turns food waste into compost – which will then be channelled into fertiliser for its sky gardens.
Another exciting development is the addition of a fourth tower to the iconic hotel, Marina Bay Sands – it currently features three 57-storey towers with sloped glass facades. The new stand-alone tower will contain more hotel rooms and will also have a state-of-the-art 15,000- seat arena to stage major concerts. Two new parks will join Mandai Nature Reserve in 2022: Mandai is a nature precinct famously known for being home to some of Singapore's most popular attractions: Singapore Zoo, Night Safari and River Safari. Mandai is currently being transformed to become Singapore's integrated wildlife and nature precinct.
Does Singapore have any sector specialisms?
Singapore has specific interests including aerospace and logistics, advanced manufacturing, applied health sciences, design, financial services, innovation, and media and digital content. Furthermore, it is a regional centre for technological research, underpinned by a vibrant business environment, world-class infrastructure and industry-ready talent and is poised to become the world's first Smart Nation. Singapore readily connects innovators, investors and entrepreneurs from Asia and beyond through a slate of compelling thought leadership events.
How was your experience at The Meetings Show this year?
The Meetings Show 2020, provided Singapore Tourism Board (STB) with the opportunity to connect with UK and international delegates and update them on Singapore's latest developments. During the show's three days, STB shared information on SG Clean, a national mark of excellence that indicates our businesses adhere to high standards of environmental public hygiene on their premises, and gives locals and visitors added peace of mind when visiting. STB also announced the Creation of the Safe Business Events (SBE) Framework, created in consultation with the MICE industry, and is aligned with international best practices (e.g WHO, AIPC, ICCA and UFI, The Event Safety Alliance Reopening Guide) and Singapore's national standards. The key focus of the framework is to ensure events can be conducted in a safe, trusted and reliable manner for all attendees, covering the entire attendee journey from pre, during and post-event planning.
For those who missed the news, from 1 October 2020, STB has begun accepting applications for Event Organisers to pilot MICE events of up to five zones of 50 attendees (250 pax). During this phase, STB will work with the industry to trial MICE events, testing the SBE framework and collecting feedback to further refine the framework before general resumption of events is permitted.
For further information on Singapore please contact louise_nathan@stb.gov.sg