11 Nov 2020
Exhibitor spotlight: Ottawa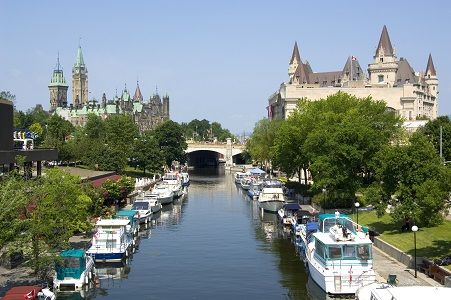 Lesley Mackay, Vice President, Meetings and Major Events, Ottawa Tourism, gives us the lowdown on Ottawa and explains why the Canadian city is the perfect place for business events.
What makes Ottawa such a great place for business meetings and events?
Ottawa is a highly experienced and accomplished host destination for important national and international gatherings and business events. It literally puts conventions on a national and international stage.

Ottawa is home to one million residents who are proud of their hometown and welcome people in English, French, Indigenous languages and many more from around the world. The city's urban landscape reveals the stories of Canada around every corner, at historic and national sites, monuments, and cultural institutions. Unique among G7 capitals, Ottawa is equal parts urban and rural, a vibrant city on the edge of nature, offering boundless opportunities for adventure and recreation in the great outdoors. Ottawa is, in so many ways, Canada in one city.

Ottawa is a destination that is accessible, with an award-winning airport with direct connections to major U.S. hubs, as well as London and Frankfurt. The airport is a 15-minute drive to a compact and walkable downtown. It is home to the Shaw Centre, the city's premier, state-of-the-art convention venue located in the heart of downtown next to the Rideau Canal, a UNESCO World Heritage Site, and within easy walking distance of over 6000 hotel rooms. The facility is directly linked to the 180-store CF Rideau Centre, and the 495-room Westin Ottawa. The new light rail transit system links hotels to the Shaw Centre and other meeting facilities and venues in the city.

As Canada's capital, Ottawa is home to several national museums filled with priceless artifacts and brightly lit halls, which provide interesting settings for any event. The Canadian Museum of History, the Canadian Museum of Nature, the Canadian War Museum and the National Arts Centre offer grand public spaces for unique off-site receptions, galas and events. Offsite venues that allow delegates to network and dine among towering totem poles, priceless antique army tanks and gigantic dinosaurs will surely make an event in Ottawa one to remember.
What are Ottawa's sector specialties?
Canada's capital provides ready access to national policy-makers, the international diplomatic community, national associations, and subject matter experts from a wide variety of fields, including information and communications technology, health and life sciences, aerospace and defence, engineering, and cleantech. Ottawa is one of Canada's leading technology hubs, with both international tech giants and local start-ups. Ottawa is a leader in autonomous vehicles and offers a powerful cluster of advanced networking, software and Internet of Things expertise.

Home to two universities, two colleges, the seat of Government, and the National Research Council, Ottawa also provides ample resources for education and research.

What are some of the latest and forthcoming developments for Ottawa's MICE market?
Reflecting the dynamism of the Capital's region, recent hotel openings have added a significant choice for business travelers and meeting planners to consider. Located in the downtown core, Le Germain Hotel Ottawa is a luxury boutique hotel which opened in 2018 with 115 rooms, meeting facilities, gym and Norca Restaurant & Bar. The hotel is in the same architectural complex as the new Ottawa Art Gallery, which showcases rotating exhibits of Canadian and international art. Other recent hotel openings include the Sandman Signature Ottawa Airport Hotel near the Ottawa International Airport, the Holiday Inn Express & Suites Downtown Ottawa East and the Wingate by Wyndham Kanata West Ottawa close to the Canadian Tire Centre.

Ottawa's local suppliers have shown innovation in 2020, adapting their services for the near future of meetings by offering services to help organisations within virtual environments, proposing new products such as interactive digital kiosks and thermal scanners available for rental and sale, or organising pop-up events at exclusive Ottawa locations.

What are you hoping to gain from attending The Meetings Show 2020?
Ottawa Tourism is keen to support industry initiatives during the pandemic and to keep front-of-mind with buyers to ensure that they know Ottawa will be ready to welcome them when they are in a position to consider Canada as a future congress destination. Moving forward, we are proud that Canada's capital can offer physical, hybrid and virtual meeting platforms to suit the ever-changing dynamic of the meetings industry.