15 Apr 2019
Exhibitor Spotlight: Newbury Racecourse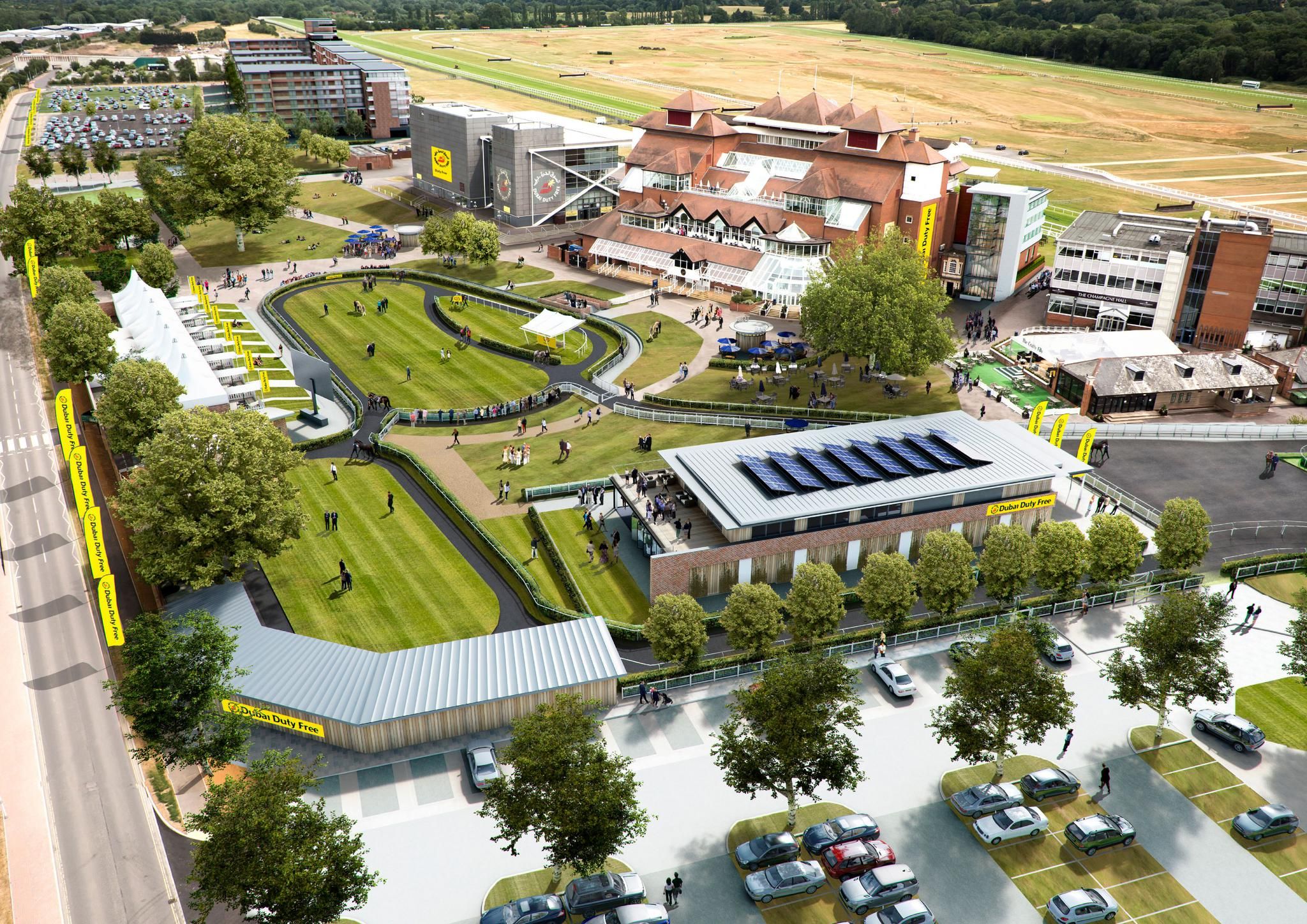 Newbury Racecourse has one of the largest conferences and event spaces in Berkshire, with fantastic facilities that can be adapted to fulfil clients' requirements and ensure that their events have that wow factor that so many people are looking for.
Elena Gurgul: Head of Sales - conference & events
What sets Newbury apart from other racecourses and makes it a great venue for events?
Newbury Racecourse has one of the largest conferences and event spaces in Berkshire, with fantastic facilities that can be adapted to fulfil clients' requirements and ensure that their events have that wow factor that so many people are looking for.
Set amongst 300 acres of natural beauty, the four main buildings each house a diverse collection of event spaces and offer spectacular views of the Racecourse and Parade Ring. The centre of the course is one of the most unique spaces as it is not only a driving range but can accommodate for almost any external event.
With the completion of the £50m site redevelopment in 2018, the racecourse's external areas are at their highest standards.
The racecourse also has its own train station, Newbury Racecourse station, which connects us to London Paddington Station with a direct 50-minute train. We are located on the M4 corridor with quick access to the M3 and A34.
Can you tell us a bit about the spaces you have available and what types of events they're suited to?
With so much open space at your disposal, Newbury Racecourse is proud to offer the site for exclusive hire. The vast open land in the middle of the racecourse lends itself ideally for bespoke film sets, team building activities, sports events or corporate activities.
Moving indoors, the Dubai Duty Free Grandstand, designed by Sir Norman Foster, is a fantastically versatile space with 2402 square meters of floor space set over 3 levels with the largest space, the ground floor, giving unlimited opportunities for any type of event, from exhibitions and product launches, to award dinners and conferences.
What's more, we have 3,000+ parking spaces around the site which can comfortably accommodate vehicles for large productions, personal cars, film trailers and catering trucks. With so much space available and a dedicated on-site catering team, Newbury Racecourse offers bespoke packages and it is completely flexible to any client requirements.
The dynamic and versatile Berkshire Stand has an impressive 40 private boxes. These rooms can be transformed into boardrooms, private small event areas and interview boxes, all with stunning views over the racetrack and completely secluded.
The Hampshire Stand offers a further three floors of meeting space, with the largest for up to 200 people on the top floor, overlooking the race track. The ground floor offers the ideal space for a warm welcoming drink area, featuring our wine cellar which is perfect for hospitality events, corporate nights or networking.
The Owners Club can accommodate up to 220 delegates and includes a separate bar and terrace area as well as an optional balcony. This modern and light building is most popular due to the location on site and view. Delegates are surrounded by bi folding doors that open up onto a terrace area overlooking both The Pre-Parade and Parade Ring. The terrace is especially popular in the spring and summer months when our BBQ offering is at peak. This is a beneficial factor to the event organiser as it contains the event in one space with the surroundings appealing to the guests as a relaxing break out area during the event. The Owners Club is one of our preferred facilities due to these unique benefits which many other venues cannot assist with.
Are there any particular sectors or industries Newbury Racecourse works closely with?
We work with very different sectors, from automotive to financial to retailers. If I had to pick one I would say the government and utilities industries are our largest clients, but it varies. What we are trying to achieve this year is to grow our brand awareness and send the message that we are "more than just a racecourse".
Following Visit England's inspection visit on Al Shaqab Lockinge Day last year we scored 91%, which puts us well inside the top 10 Racecourses in the country (the threshold was 88%). In addition, we won individual accolades for Quality Café/Restaurant, Staff Customer Service and Visitor Information. 2019 will see us exploring and enhancing new relationships within the corporate and agency sectors through trade shows and exhibitions. We need to tell our clients what we are capable of, not only from a venue perspective but also from how we deliver bespoke and tailored events to specific requirements. The advantage we have is the flexibility of our space, of our staff and the experience we have in delivering outstanding and upscale large events.
Have you hosted any unusual events over the past year that you may not typically expect to find at a racecourse?
One of our largest events in the centre course involved 15ft tepees, camping facilities for all delegates and outdoor catering all within one space, this is something that no other venue could accommodate in the local area!
Newbury Racecourse has also leased the site for a number of productions, the most prolific is arguably that of the William Hill advert shot in December 2016 by Bark&Bite Productions, featuring the emphatic champion that is Sir A.P. McCoy.
Here's what Client Services Director Chris Hislop had to say about the shoot:
"We had the pleasure of using both the interior and exterior of Newbury Racecourse back in December 2016 when shooting a large-scale TV advertising production.
"We required a racecourse in immaculate condition to form the backdrop for a UK first that would see Sir A.P. McCoy assume the role of "Nightrider" as he jumped fences under the cover of darkness.
"I would be quick to recommend the racecourse and its facilities to anyone looking for a unique location and an extremely helpful and professional team."
Be sure to check out the gripping trailer from Bark&Bite here:
https://barkandbite.slateapp.com/showreel/view/5c7904ac30f38
In short, it's difficult to express what an "unusual event" is at Newbury Racecourse as every event for us is extremely different, from indoor garden reproduction evenings, to DJ events and atomic weapons dinners. We support other sporting events, such cycling, boxing and running. We have the most creative events team and we are 100% committed in supporting clients with any requirements they might have, such as serving 400 people for a gala dinner with themed food and the ultimate scary experience during Halloween.
If you want to combine your corporate event with a raceday, when is the best time of year? Are there any fixtures that are particular highlights?
The racecourse has 30 races in 2019. We are open to support any agencies or corporate at any of our events by offering hospitality experiences and packages. There isn't a specific fixture to suggest, however it is without saying that our most popular are Al Shaqab Lockinge Day on 18 May and The Ladbrokes Winter Carnival, Ladbrokes Trophy day on 30 November.
We also have two major concerts every year in conjunction with two of our race days so if you haven't booked it yet come and see Tom Jones on 20 July or Madness on 17 August!
What are the accommodation options like for event planners and delegates travelling to Newbury Racecourse?
The Lodge is Newbury Racecourse's new hotel located in the grounds of the Racecourse estate, just a two-minute walk away from Newbury Racecourse Station.
The 36 ensuite bedrooms each have individually designed décor, luxury super king-sized beds and bespoke furniture. The hotel has a very modern boutique feel and can be booked out on selected dates for large or small events (up to 60 guests sharing). It is a great added value and extremely convenient for onsite events.
We also collaborate and work well with hotels located in the surrounding area which can support our demand for over 60 guests.
If delegates attending an event at Newbury Racecourse are planning on spending an extra day or two in the area, where would you recommend they go?
Newbury is one of Berkshire's largest towns and the perfect place for a short break or business trip around the South East England. Set along the banks of the River Kennet and the Kennet and Avon Canal, Newbury has a fresh, rural atmosphere combined with great shopping facilities and attractions.
The countryside surrounding Newbury is part of the North Wessex Downs Area of Outstanding Natural Beauty. In the racecourse proximity you can go and visit Shaw House, which is the largest Elizabethan house in Berkshire, Highclere Castle, the largest mansion in Hampshire, The Living Rainforest, which is a unique place where you can experience some of the wonderful plants and wildlife that is in extinction and if you are a gin lover why not and visit the Bombay Sapphire distillery which allows you to discover the flavours of the botanicals which make Bombay Sapphire's gin so unique.
What can visitors to The Meetings Show expect when they visit your stand?
The team is fairly new but extremely knowledgeable, excited to meet new people and to spread the word on what Newbury Racecourse can offer. We have a very fun competition going on at the stand…
When I started back in September 2018, I shared a video with the team; about 10 years ago Barack Obama faced his first presidential election and the mantra "Fired up, ready to go!" perfectly summed up the mood and tenor of the time. Casting my mind back to then, I recalled the anecdote which led to the fabled phrase to my team, showing them the short five-minute video. But this also led to the title of our competition and is the driver to our spirit and mood! Come and see us at stand I602 and we will tell you all more about it. In short, what can you expect from us? Professionalism, Flexibility and Quirkiness.