01 Jun 2022
Exhibitor Spotlight: London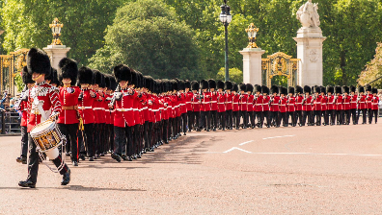 Amidst a year of big celebrations for the UK's capital, Rachael Boraston, Head of Destination, UK at London Convention Bureau, outlines some of the city's key MICE updates and tells us what the organisation is planning for The Meetings Show.
Events are now back in operation in the capital, what is the outlook now for London's events industry?
I think I speak for almost everyone when I say it's busier than ever! London is attractive once again for both local and international planners due to open boarders and innovation across suppliers. Requirements of course continue to change and evolve, but I think there's a feeling of collaboration between buyers and suppliers. In terms of requirements, we are seeing and happily able to facilitate the need for more sustainably lead events, as well as more creativity across meetings, exhibitions, conferences and incentives.
What makes London such a great destination for meetings and events?
There is so much to say on this!
Diverse product offering – whatever your purpose or budget, there will be something for you. Over the last 12 months we've seen a huge boom in new developments, and we are looking ahead to many more. If you want a blank canvas venue to build something bespoke and creative, we've got it. Perhaps you want to tap into tradition and history, or take advantage of a slick, state of the art venue for a high tech production – all feasible here. The options are almost endless.
I think as well, the sense of place. Nowhere feels quite like London, when wandering the streets you've got iconic buildings and signifiers at every turn to place you here in London, plus it's easier than ever to get around and discover the different neighbourhoods and transport your delegates.
The Elizabeth Line is now open – what a game changer!
What are some of the latest updates in London's MICE market?
As I mentioned – The Elizabeth Line – connecting the city East to West – a very exciting prospect for ExCel, who are also in the midst of their extension and development.
Most recently Convene opened in the City for chic yet functional meeting space. In terms of meeting space in hotels we've got 100 Shoreditch an exciting new property in the east, and toward the end of 2022 we can look forward to London's first Peninsula hotel, a Raffles in the Old War Office and Battersea will open its doors to multifaceted and iconic event space. There's so much more to discover, so I will absolutely be sharing more at the show!
The Meetings Show is celebrating its 10th edition this year and it's also a year of celebration for London, tell us more:
Well in case you hadn't heard…it's the Queen's Platinum Jubilee this year so London is awash with bunting and the buzz of excitement! It's the place to be to soak up that street party energy and celebration, or check out the super bloom at The Tower of London.
The celebrations will continue beyond June with The London Eye offering 'Jubilee Pub Pods' until September, and various exhibitions to take a look at the history of the Monarch. Alongside this we celebrate our 10 year Olympic Legacy, with huge developments in Stratford and a 10 year celebration, a series of musical and cultural events for all to enjoy – Abba Voyage being one of them. Alongside this an Olympic exhibition has been curated, plus later in the year Stratford will be hosting some of the Commonwealth Games alongside Birmingham. We also are so proud to mention that it's the 50th anniversary of Pride London. All in all, London is celebrating it's history, sporting and cultural legacy and diversity through some truly iconic events and celebrations.
What is London Convention Bureau planning for The Meetings Show this year?
We're excited to offer a real diverse range of partners and the opportunity to share some truly amazing developments and reasons to get excited about hosting events here in London again.
We can't wait to see you here and share our passion for London, helping you to unlock the best of the City.