10 Jun 2019
Exhibitor Spotlight: Farnborough International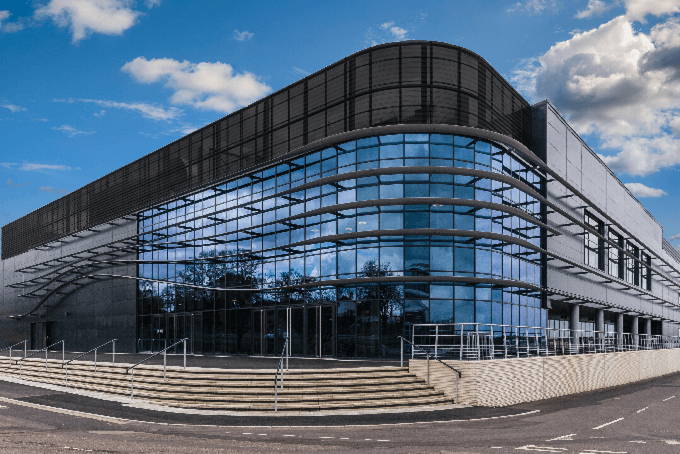 Ahead of exhibiting at The Meetings Show 2019, we spoke to Bex Hale, Marketing Manager at Farnborough International, to find out more about the exhibition and conference spaces and hear about its inaugural year of operating.
One year on from opening as a brand-new purpose-built events facility, Farnborough International Exhibition & Conference Centre has built on its strong history to take off as 'the home of pioneering spirit'. Ahead of exhibiting at The Meetings Show 2019, we spoke to Bex Hale, Marketing Manager at Farnborough International, to find out more about the exhibition and conference spaces and hear about its inaugural year of operating.
Can you please tell us about the spaces that are available at Farnborough International Exhibition & Conference Centre?

Farnborough International's Hall 1 is a £30million, 20,000sqm venue which opened in 2018, made up of a 12,500sqm exhibition hall and nine flexible function spaces. Spanning two floors, the venue has a vast space capable of showcasing major events.

Hall 1 is a unique, modern space designed by event organisers, for event organisers; it offers a conference space for up to 2,500 delegates plus additional flexible conference and meeting rooms accommodating up to 900 guests theatre-style, or 630 banqueting, ideal for corporate events. Our adaptable event rooms boast magnificent runway views with an abundance of natural daylight, high ceilings up to 8m and blackout facilities.
Hall 5 has been staging successful events since 2008. With 3,000sqm of unbranded space, you can completely tailor the area to your vision. A blank canvas, ground floor, exclusive hire venue offering unrestricted space for any event; free parking, drive-in access, two entrance foyers and large kitchens offer scope for events up to 1,500 people. Hall 5 is a popular choice for niche events, hosting AGMs, product launches, annual dinners, conferences, filming and Christmas parties.


Find out more about our spaces: https://www.farnborough.com/organiser/find-a-space/
What are the benefits to meetings and events organisers of holding an event at the Farnborough International Exhibition & Conference Centre?
Our purpose-built venue reflects Farnborough's role as the birthplace of aviation and a well-known hub of innovation, making us an exciting, inspiring and very different location for events of all size. Inherently versatile, the Farnborough International Exhibition and Conference Centre is the only venue in the UK to provide organiser expertise, gained through our work on the globally-recognised Farnborough International Airshow.
At the heart of the new venue is a vast space: a 12,500sqm exhibition hall which is large enough to accommodate three football pitches, 46 basketball courts, or 16 Olympic swimming pools.

Surrounding the exhibition hall are nine conference and events areas, bringing the total amount of flexible space to 20,000sqm.

Drive-in access to both exhibition halls for easy unloading or display of vehicles during events.

On-site free parking for 3,500 cars.

Ideal location 35 minutes from London by train, 30 minutes from Heathrow, only 50 minutes from Gatwick and 15 minutes from the M3.

More than 2,500 hotel bedrooms within a 10-mile radius.
Farnborough offers world-class experience and knowledge, on-site event expertise and collaboration with leading event suppliers.
What is unique about the venue?
Our location has access to popular South East attractions without the hustle and bustle of the city, and fast links to the capital and beyond. Located alongside Europe's leading business airport, the Exhibition and Conference Centre is a venue shaped around Farnborough as the birthplace of aviation and the history of the pioneering spirit. It is an inspiring and very different location for events overlooking the airport; providing a number of opportunities for organisers to engage with delegates.
As Farnborough International Exhibition & Conference Centre is located at Farnborough Airport, we're set up to organise any level of security your event demands.
The venue's versatility is an aspect we're particularly proud of; it can be quickly and easily transformed from an exhibition hosting 25,000 visitors to a dedicated live event facility for large scale business events, to a film set for a major feature film.
What has the first year after launching been like at the Farnborough International Exhibition & Conference Centre?

We've had an exceptional first year and proven the capability of this venue and ourselves as an organising team to the industry. The venue has been universally well received by both large and small-scale event organisers. In 2018, 79,000 visitors were welcomed to exhibitions and events at the new facility.

Here are some of our highlights from the first year:
Being at the heart of the Farnborough International Airshow, where the UK's Prime Minister described it as an "outstanding building".

Opening Hall 1 made a significant difference to the 2018 Farnborough International Airshow, one of the world's biggest trade shows with 1,500 exhibitors and around 80,000 visitors.

Accommodating vehicles of all size, from an Airbus H135 helicopter at the recent Security and Policing Expo, to a 16-tonne truck filmed undertaking a handbrake turn as part of a major feature-film stunt.

Hosting the Royal Philharmonic Orchestra who gave a stunning performance played during Runefest 18.
Why should meetings and events buyers visit your stand at the show in 2019? Do you have any activities or incentives planned to take place at the show?

Our team are friendly and very knowledgeable, passionate about their industry with varied backgrounds in all types of events and venues. As our venue is brand new, the team are excited to spread the word on the spaces and expertise we have to offer meetings and events organisers, and create memorable experiences for their guests.

We will have a fun competition on the stand – be a pioneer with us and have the chance to win some great prizes!
Do you have any exciting developments planned for 2019/20 that you can share?
We're currently enhancing our organiser and visitor experience with new digital signage and improved guest wayfinding in Hall 1. As part of expanding on our event offering, we are also implementing additional in-built AV into the venue for easier event planning.
To develop the capabilities of our 12,500sqm exhibition hall we're installing optional acoustic partition walls to create individual live event spaces that have self-contained acoustic performance.




We have lots of exciting events coming up. In particular, we're delighted to be part of the launch of new shows including ITT HUB 2020 – an event focussed on innovation and technology in transport. In November we host the Vertical Flight Expo. These shows will make full use of our site to demonstrate products and innovation, using the private road network and air space capability.
Does Farnborough International specialise in any specific sectors/industries?

Our venue is located in the heart of the sci:tech corridor, surrounded by leading science, technology and engineering companies, attracting businesses from all over the UK and internationally, particularly in the automotive, aviation and IT sectors.
Farnborough needs no explanation, from corporate giants to small innovators it is known by companies of all sizes which makes it a straight-forward venue for events of all size. Farnborough International Exhibition and Conference Centre is situated on Farnborough TAG airport giving business flyers an opportunity to travel direct to an event.
What do you think is the one unmissable thing to do for anyone visiting Farnborough?
Farnborough has a rich heritage of aviation firsts and much of the ingenuity that has shaped modern day aerospace took place here. From the jet engine, the designs for Concorde, high altitude space suits and carbon fibre; it has all happened in Farnborough.
I would recommend visiting Farnborough's FAST Museum to see some great aviation artefacts, and booking a guided tour of Farnborough's wind tunnels, which played a central role in aviation research in Britain for decades.
We're also surrounded by some of the South's most popular events and attractions; Windsor Castle, Highclere Castle (filming location of Downton Abbey), Legoland, Bombay Sapphire Gin Distillery and Hogs Back Brewery – to name a few!
href="https://www.themeetingsshow.com/exhibitor-list/exhibitor/farnborough-international-exhibition-and-conference-centre" title="" class="" target="_blank">H601 at the show.
Farnborough International will be based on stand
H601
at the show.