01 Jun 2023
Tomorrow's Talent Winner 2023: Alex Chesters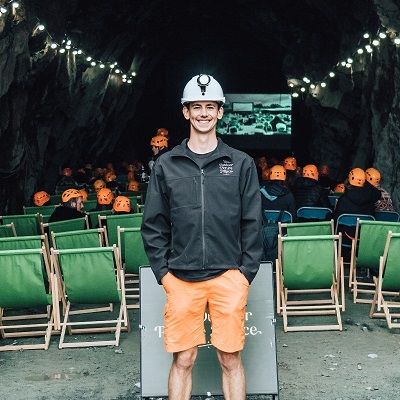 Alex Chesters scored a work experience placement in events while at school, and eventually worked his way into a paid position in the industry as operations co-ordinator. When the pandemic struck in 2020, Alex used his free time to complete the Enterprise course with the Princes Trust, resulting in him launching a business delivering outdoor cinema events in the North West. The business's success led to Alex founding and launching Palace Events, a company supplying equipment hire and services to the events industry.
What's your proudest career moment so far and why?
Delivering the first event by The Outdoor Picture Palace. It was a screening of the original Top Gun. The venue had an epic mountain ridge line backdrop, perfect for the film. It was so rewarding to finally see everything come together for the business and have a full audience enjoy such a memorable experience together.
What do you most love about working in events?
To be the one responsible for creating an event that allows people to switch off from their busy lives is incredibly rewarding. On a personal level, I love the operational challenge of making events happen. Going from a concept idea to doors opening and customers coming in, breaking that down and working out the steps to get there.
If you could work on any event anywhere in the world, what and where would it be?
Possibly the Freeride World Tour or Red Bull Rampage. As a qualified ski instructor and mountain biker, it would be great to see behind the scenes of those events.
Who is your biggest inspiration and why?
Anybody who is starting out in the industry and giving it a go. Having started at the bottom and worked my way up to now running my own business, I certainly don't know all the answers or how to get everything right. Seeing that there are other young people also doing the same reminds me it is possible, so I can't wait to meet and chat with all the other Tomorrow's Talent winners.
What advice would you give to young people considering a career in events?
Try to gain as much experience as possible, with as many companies as possible, whilst you are still young. Whilst you are still at school, make the most of your time and lack of financial commitments to test out different areas of event work and see which you prefer the most. Also don't be afraid to ask for advice, the events industry is incredibly welcoming and people will usually always make time if you are seeking advice and help.
Where do you see yourself in 10 years' time?
Who knows! I certainly hope still enjoying events and creating experiences for other people to enjoy. Whether that is through the median of outdoor cinema or something new and different I don't mind.