07 May 2021
Tomorrow's Talent Meet the Judges: Jack Marczewski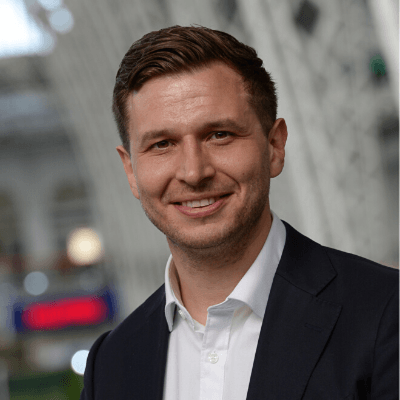 Another newcomer to our Tomorrow's Talent judging panel this year is The Meetings Show's event director Jack Marczewski. Jack became event director in 2019, four years after he joined the team as sales manager. Jack is thrilled to be joining the Tomorrow's Talent judging panel where he will help pick out 10 talented newcomers.
Why do you think it's important to recognise and celebrate young talent within the events industry?
Young event planners are the future and will be the leaders of tomorrow. We need to do all we can to encourage them to thrive in this exciting industry and give them support to be able to achieve their goals. The Meetings Show is the best platform in the UK for the events, meetings and incentives industry to come together to source, learn and grow, so it is right that we extend this ethos to newcomers through Tomorrow's Talent.
Why is it particularly important to recognise talent now?
This last year has been a challenging one for the industry with many jobs being impacted by the pandemic, so we feel it is more important than ever that we give talented young professionals a platform to promote themselves to future employers. We also know that the industry is rebuilding itself and that it will need talent to be able to do this, hence it's doubly important that we support those who will be carrying the industry forward now and into the future.
Have you seen any initiatives or actions taken by emerging meetings and event planners that have stood out or impressed you this last year?
I was really impressed by last year's Tomorrow's Talent winners. Unfortunately, like so many planners across the industry, their positions had been affected by COVID-19. A number had found that their roles had been made redundant, but they didn't let that hurdle stop them from progressing within the industry. Some set up new businesses, others swiftly found new roles. They didn't stand still despite adversity and I found that really impressive.
Do you feel like there is a strong culture of mentoring and support for young people within the industry?
There are already some brilliant initiatives in place designed to support young people in the industry. Our new judge, Priya Narain co-founded Event First Steps for example. The not-for-profit initiative aims to encourage event industry newcomers to forge their own career path by equipping people with the knowledge and confidence to flourish. There are other mentoring programmes like Fast Forward 15 and Elevate, but there is always room for more. We need to nurture talent, which is why we introduced Tomorrow's Talent in 2019. We will continue to grow this initiative and provide mentorship and support for winners.
What are the attributes that you think make a successful meeting and events planner?
Enthusiasm and adaptability. We all know how stressful and challenging event planning can be so the ability to change tact and adapt to situations quickly is crucial in becoming successful.
What can Tomorrow's Talent entrants do to stand out?
We are aware this has been a difficult year for everyone, but I'll be looking for individuals who have found ways around the challenges and have worked hard to succeed despite everything that has been thrown at them.
For more information about Tomorrow's Talent and to enter, or nominate an industry friend or colleague, click here