Jun 14, 2019
Tomorrow's Talent: Ash Rowe, IET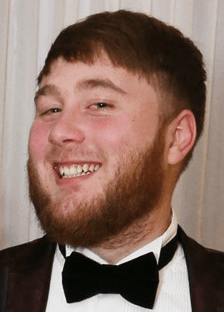 We caught up with Ash Rowe, one of our Tomorrow's Talent winners, to find out what he loves most about his job and where he hopes to be in the next five years.
How did it feel when you found out you were one of the winners of Tomorrow's Talent?
When I first found out that I had won the Tomorrow's Talent award, I was genuinely speechless. It is an incomparable feeling to be acknowledged by your peers in such a big way. I can only thank everyone involved with the competition for selecting me alongside some other incredible winners.
What first attracted you to working in events?
I think what first attracted me to events was the desire to design and create experiences for people. There is no better feeling than watching someone laugh or smile and to be able to directly affect the lives of thousands of people a year was a huge draw.
What do you love most about your job?
The thing I love the most about my job is how variable it is. Working for the Institution of Engineering and Technology means that one day I could be looking at the next major innovation such as 5G or the Internet of Things and the next I could be developing a large awards ceremony such as the Young Woman Engineer of the Year Awards. No day is ever the same and it's a wonderful to always feel challenged.
If you could change one thing about the events industry, what would it be?
I think the one thing I would change about the events industry is the amount of collaboration within the industry itself. As event professionals we specialise in bringing people together but due to commercial nature of our business, we tend to be quite secretive about the things we're doing. Events such as The Meetings Show and movements such as #eventprofs are starting to make a difference to the way we communicate but there is certainly a lot more that we could be doing!
What are you most looking forward to about The Meetings Show this year?
The Meetings Show every year has a packed educational programme and this year is no different! As someone that is an advocate for mental health and runs multiple events a year on diversity, it's always great to hear from experts to help get the creative cogs whizzing around in your brain.
As a bit of a technology addict, I also can't answer this question without mentioning the tech zone that will be featured!
What are your ambitions for the next five years?
As someone working within the engineering and technology sector, I'm excited by the roll out of 5G and I'm looking forward to working with suppliers to create new and exciting technological innovations that will hopefully truly advance the way that people connect at events. The end goal is to eventually work for a major tech company such as Google or Facebook so that I can hopefully make a real difference to the world!
Do you have any advice or top tips for people just starting out in events?
For those just starting out their career in events, I would say that the greatest asset that the industry has is its people. I would encourage anyone to speak to and learn from everyone that you possibly can. I mean it when I say that I wouldn't be the event manager and person I am today without the people that I've had around me throughout my career. It is great to learn from people from different cultures and backgrounds and it really does make a difference to how you run your events.
Alongside this though, the best thing I could say is "never stand still." Consistently innovate, be creative, ask questions and don't be afraid of making mistakes. In fact, the one piece of advice that I received from a former manager was; "make a million mistakes if you must, but never make the same one twice" and that is how I've lived both my personal and professional life and it has worked out well up to now!