23 Mar 2022
Tomorrow's Talent 2022: Entry deadline extended to 1 April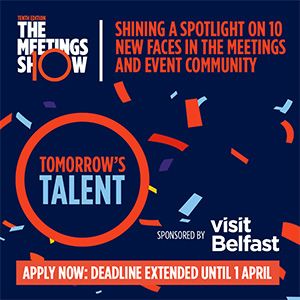 Up-and-coming event planners and buyers now have until Friday 1 April to submit their entries for Tomorrow's Talent, The Meetings Show initiative designed to champion the industry's emerging stars.
The scheme, run in partnership with M&IT and sponsored by Visit Belfast in 2022, champions exceptional emerging talent within the industry to help nurture and support the leaders of the future.
Entries for the career-changing initiative are welcome from talented event planners or buyers who are aged 30 and under, or who have up to three years' experience in the meetings and events industry. Planners can either nominate themselves or be nominated by an industry colleague via an online registration form or video submission.
A panel of industry professionals will select the 10 most promising entrants to receive a series of opportunities throughout 2022 to raise their profile, including networking opportunities, peer-to-peer learning, and VIP attendance of The Meetings Show.
Entries will be reviewed by a panel of judges, including:
Paul Harvey, Editor, M&IT

Lisa Stewart, Business tourism manager, Visit Belfast

Leigh Cowlishaw, Managing partner, Black Box Partnerships

Patrick Delaney, Managing partner, Soolnua

Priya Narain, Co-Founder, Event First Steps

Gabby Austen-Browne, Co-Founder, Diversity Ally

Gracia Kabongo, 2019 winner and Events Manager, Wates Group
Winning Tomorrow's Talent has had a positive impact on the careers of those who have been awarded the title since the initiative started in 2019, helping to raise their profile and presenting opportunities for promotions and new roles.
Tomorrow's Talent 2021 winner Charli Briggs, founder and director of Eventure, said being named one of 10 of the UK's rising stars in the event industry was 'mind-blowing'.
"Being a Tomorrow's Talent winner is more than just your name on a list, you become part of a like-minded community of ambitious event professionals and it encourages you to step beyond your comfort zone and continue reaching for the stars!"
Jack Marczewski, event director, The Meetings Show, said: "We have already received a healthy number of entries for this year's Tomorrow's Talent, but we also appreciate how busy everyone in the industry is - particularly with business events returning - so we felt it would be fair to extend the deadline by another week to enable emerging meeting and event planners and their colleagues another week to put together and submit nominations and applications."
Full benefits for the 10 winners will include attendance at a celebratory lunch; a Fam trip to Belfast hosted by sponsor Visit Belfast; personal profiling opportunities through M&IT and The Meetings Show; VIP attendance at The Meetings Show 2022 including an invite to a drink's reception at the show; the chance to steer and take part in an education session as part of The Meetings Show's content programme; and the opportunity to enrol on The Complete Sustainable Events Course, run by The Meetings Show in partnership with industry sustainability body isla.
To qualify, nominees must be based in the UK, hold a full-time position as a meeting or events planner/buyer and be aged under 30 OR have only worked for up to three years in the industry.
To nominate yourself or a colleague visit here.