20 May 2021
Tomorrow's Talent 2021: Entry deadline extended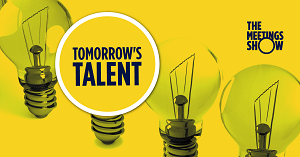 Meeting and event planners aged 30 and under now have until Friday 28 May to submit their entries for Tomorrow's Talent, The Meetings Show initiative designed to champion the industry's up-and-coming stars. The programme, run in partnership with M&IT and sponsored by London & Partners, will shine a spotlight on exceptional young talent within the industry and help to nurture and support the leaders of the future. A panel of leading industry professionals will select the 10 most promising meeting and event planners aged 30 and under, who will receive opportunities to raise their profile, network with industry leaders, learn from their peers, and attend The Meetings Show 2021.
The judges are:
Jack Marczewski, event director, The Meetings Show

Paul Harvey, editor, M&IT Magazine

Paul Black, head of business events London & Partners

Fiona Macdonald, senior manager business events, VisitBritain

Leigh Cowlishaw, managing partner, Black Box Partnerships

Patrick Delaney, managing partner, SoolNua

Ryan Curtis-Johnson, head of PR & marketing at DRPG

Priya Narain, co-founder of Event First Steps and general manager of EMA
Winning Tomorrow's Talent has had a positive impact on the careers of those who achieved the accolade in 2019 and 2020, helping to raise their profile and presenting opportunities for promotions and new roles.
Jack Marczewski, event director, The Meetings Show, said: "We've already received a number of high-quality entries for this year's Tomorrow's Talent, but we're also aware how busy everyone in the industry is as they prepare for the return of meetings and events, so we felt that it was only fair to give emerging meeting and event planners and their colleagues another week to put together and submit nominations and applications for this influential award."
To help guide entrants, judges have indicated what they will be hoping to see among the nominations.
Fiona Macdonald senior manager business events at VisitBritain, said: "To stand out, my recommendation to entrants is to give evidence on the outcome and impact of their work, and where possible quantifying how they made a difference. The numbers will speak for themselves."
New judge Priya Narain, co-founder of Event First Steps and general manager of EMA, added: "I will be looking out for people who can tell me a bit more about who they are rather than what they do. One of my favourite sayings is 'making things happen' so I will be looking for entrants who can demonstrate this through their passion, determination, and versatility and how they can make an impact on the industry moving forward."
Full benefits for the 10 winners will include attendance at a celebratory lunch and fam trip; personal profiling opportunities through M&IT and The Meetings Show; VIP attendance at The Meetings Show 2021; the chance to participate in a Tomorrow's Talent alumni education session and mentoring opportunities through the show's hosted buyer audience.
To take part, nominees must be aged 30 or under on 30 September 2021.
To nominate yourself or a colleague visit here