19 Oct 2020
The Meetings Show: Successful first day with so much more to come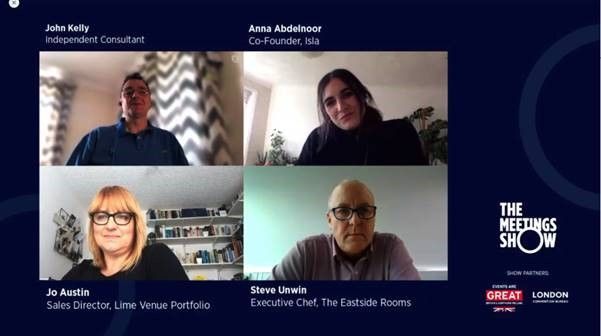 Visitors to the first virtual The Meetings Show have held hundreds of rewarding meetings, attended hours of stimulating education sessions, and made dozens of valuable connections during the first day of the show.
Highlights from day one of the UK's leading exhibition for event and meeting professionals included sessions on creativity, designing interactive and engaging online meetings, understanding virtual attendees, building resilience, PR, measuring ROI and facilitating valuable business opportunities.
The popular education sessions, which have been viewed over 2,600 times so far by visitors from across the globe, have sparked interesting debate and seen many engage as well as ask thought-provoking questions to the show's great line up of speakers.
More than 250 exhibitors have committed to The Meetings Show and more than 1,600 pre-qualified buyers have registered to attend across the three days.
Jack Marczewski, The Meetings Show's Event Director, said: "We've been delighted with how the first day of the event has been received. Before we even went live this morning, an impressive 60% of pre-registered attendees had already logged in to our virtual platform to book sessions and arrange meetings, and throughout the first day we can see hundreds of valuable connections and networking meetings have already taken place across our virtual platform. And, there's so much more to take place over the next two days."
To help buyers get the most out of the second day of the show on Tuesday 20 October, The Meetings Show team has put together the following suggested selections according to availability around their pre-scheduled appointments.
Take some time to focus on building your career and gain tips on how to network and create a winning CV in 5 Steps to Raise your Profile in the Events Industry with Samantha Salisbury of Jonsam Events at 11:50am.
2020 has seen an abundance of virtual event solutions burst onto the market, leaving some organisers asking how they can offer both suppliers and attendees valuable opportunities to generate business and make genuine connections. For tips on running a successful online event, book into How to create immersive online event experiences with Johnny Martinez of Shocklogic at 1:50pm.
And if you're concerned that sustainability has been pushed further down the agenda since the arrival of Covid-19, book into educational session From sustainability to regeneration: leveraging COVID for transformation at 2:30pm.
As well as education sessions, which run throughout the day and also cover technology, diversity, legacy and gamification, there are chances to hold valuable meetings with the show's 250 exhibitors, who include destinations, venues, hotels and technology suppliers.
Visitors can also watch insightful interviews with industry leaders, gain insight into top destinations, hear from selected speakers and find out the views from Tomorrow's Talent by tuning into TMS TV, which runs through the duration of the show.
If you haven't registered already, it's not too late. Visit https://www.themeetingsshow.com/welcome and register to attend.