01 Apr 2021
The Meetings Show starts search for Tomorrow's Talent 2021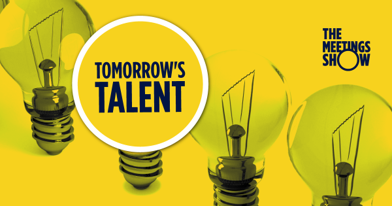 Tomorrow's Talent, The Meetings Show initiative designed to champion up-and-coming meeting and event planners, is back for a third year.
The programme, run in partnership with M&IT and sponsored by London & Partners, will shine a spotlight on exceptional young talent within the industry and help to nurture and support the leaders of the future.
A panel of leading industry professionals will select the 10 most promising meeting and event planners aged 30 and under, who will receive opportunities to raise their profile, network with industry leaders, learn from their peers, and attend The Meetings Show 2021.
Winning Tomorrow's Talent has had a positive impact on the careers of those who achieved the accolade in 2019 and 2020, helping to raise their profile and opening up opportunities for promotions and new roles.
The role held by one of last year's winners – Rachael Kenny – was made redundant just before she found out she had won. The accolade helped her gain a new job as an events specialist at GLG six months later. She said: "Being part of Tomorrow's Talent helped keep me visible in the industry whilst I was job hunting. The job market has been incredibly competitive, so making sure my name was out there in industry press was so helpful."
Ash Rowe, senior event logistics manager at IET, was promoted after being named a Tomorrow's Talent winner in 2019. He urged event and meeting planners under 30 to enter now. "You've absolutely got to do it. I remember sitting over my application and being nervous to click that big submit button. I had no expectations of ever being considered as a winner, but it has absolutely changed my professional life! I've also met some amazing people and made some wonderful friends within this process."
Applications for Tomorrow's Talent 2021 are now open and will close on 21 May 2021. Planners who are aged 30 and under can either nominate themselves, or be nominated by an industry colleague via an online registration form or video submission.
Entries will be reviewed by a panel of judges, including:
Jack Marczewski, event director, The Meetings Show

Paul Harvey, editor, M&IT Magazine

Fiona Macdonald, senior manager business events, VisitBritain

Leigh Cowlishaw, managing partner, Black Box Partnerships

Patrick Delaney, managing partner, SoolNua

Paul Black, head of business events, London & Partners
Jack Marczewski, event director, The Meetings Show, said: "We're excited to be opening up Tomorrow's Talent for a third year and putting the spotlight on emerging talent in our industry again. This last year has been a challenging one for the industry with many jobs being impacted by the pandemic, which is why it is more important than ever that we give talented young professionals a platform to promote themselves through our Tomorrow's Talent programme."
Full benefits for the 10 winners will include attendance at a celebratory lunch and on a fam trip; personal profiling opportunities through M&IT and The Meetings Show; VIP attendance at The Meetings Show 2021; the chance to participate in a Tomorrow's Talent alumni education session and mentoring opportunities through the show's hosted buyer audience.
To take part, nominees must be aged 30 or under on 30 September 2021.
To nominate yourself or a colleague visit themeetingsshow.com/tomorrows-talent.