26 Oct 2021
The Meetings Show sets dates for 2022 following 2021 success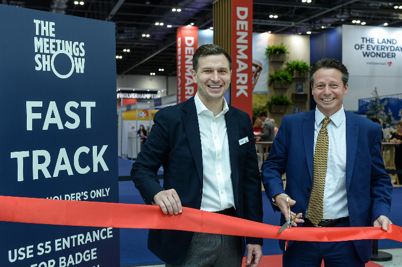 The Meetings Show, the UK's leading platform for the meetings and events community, will return to ExCeL London on 29 and 30 June 2022 on the back of this year's hugely successful event.
Thousands of people attended the two-day hybrid show on 30 September and 1 October, which was held as a live event at ExCeL London and virtually via Swapcard.
The opportunity to finally meet face-to-face again after 27 months apart and build back the industry was firmly grasped by large numbers of the meetings and events community.
Exhibitors, including UK and international destinations; hotels and venues such as QHotels, Marriott and The Celtic Collection; suppliers including Shocklogic and Nexus and industry associations and consortiums, each had an average of 25 meetings over the two days.
Post-show feedback was hugely positive after a successful two days reconnecting with clients and seeing business plans take shape for the year ahead and beyond.
Juliet Price, HBAA - consultant executive director, said: "The Meetings Show was the industry kickstart we were all hoping for. Everyone I spoke to was delighted to see so many attendees and to make those all-important human connections."
Johnny D. Martinez, head of marketing and business development at Shocklogic, who hosted education sessions as well as exhibiting, said: "The Meetings Show exceeded our expectations. We went along thinking that we'd meet a few new faces, but actually we met a lot of new people and have made 70-80 leads. We are very happy."
Alongside the chance to talk business with suppliers, buyers were invited to attend more than 40 hours of educational sessions delivered live from the show floor and virtually.
Sessions on topics such as sustainability, diversity and inclusion, professional development and hybrid left attendees inspired and enlightened while interviews played out on TMS TV, broadcast live from the show, gave viewers a chance to hear more from speakers and show associates.
Highlights of the show were a visit by Tourism Minister Nigel Huddleston, who officially opened the show before taking a tour of stands and meeting exhibitors and a keynote delivered by Ric Salmon, producer of the first virtual Glastonbury Festival and CEO of Driift.
There were multiple chances to network, with Delegate Wranglers' cocktail bar proving a popular place to spark up new contacts while anyone wanting some time out was welcomed to visit the EventWell Hub and quiet room.
It was the first time the trade show had hosted a quiet room – a safe and quiet space for anyone involved with, or attending the show, to go if they were feeling overwhelmed – on the show floor. EventWell, the 'mental health and wellbeing voice of the event industry' also had qualified mental health first aiders on hand to give support if needed.
The event also gave visitors the chance to find out about The Meetings Show's Complete Sustainable Event Course. The course, which is curated and delivered by isla's co-founder Anna Abdelnoor and supported by Andy King, was launched at the show with large numbers signing up in advance of its start on 8 November.
Hosted buyer Karyn Dickie, event consultant at Clarity Travel, said: "It was great to be back amongst people talking about all things events! There were lots of interesting suppliers to catch up with but the highlight for sure was the speakers who were outstanding with some really awesome topics covered. I left buzzing after at least three of the live talks."
Jack Marczewski, event director The Meetings Show, said: "It was incredible to be back and experience the buzz of a live event again at our new home ExCeL London. We ensured that those unable to join us in person were also able to be part of the show by using the Swapcard platform once again and it was encouraging to see so much engagement and attendance across the whole show. Exhibitor feedback has been hugely positive and a high percentage have already re-booked for next year.
"We are very excited to be working on plans for our tenth show for 2022 and are looking forward to bringing the meetings and events community back together again for what is expected to be our best show yet."