11 Aug 2021
Ric Salmon, CEO of Driift headlines The Meetings Show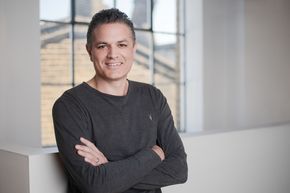 Ric Salmon, co-founder and CEO of Driift, the company that produced Glastonbury Festival's Live At Worthy Farm livestream, has been revealed as The Meetings Show's keynote speaker.
The music industry veteran, who founded award-winning livestream promoter Driift in 2020, will take to the main stage on 1 October 2021 to talk about his experience in producing ticketed online events and share anecdotes from his music management career.
Salmon and his business partner Brian Message from ATC Management moved into the livestreaming sphere when Covid-19 put paid to live events and rapidly found themselves producing sell-out online concerts.
It was the success of ticketed live-streams Driift produced for musical artists such as Laura Marling, Nick Cave, Niall Horan, Kylie Minogue and Andrea Bocelli that paved the way for Live at Worthy Farm, the first livestream for the Glastonbury Festival.
Despite Driift's previous success in online ticketed events, scrupulous planning, and diligent checks ahead of the production of Live at Worthy Farm, the online event didn't go to plan with a number of UK audience members unable to access the broadcast which featured performances by world-renowned artists, including Coldplay, George Ezra, Damon Albarn and Jorja Smith.
The error was due to a database malfunction, an outsourced service that was outside of Driift's control, but as the producer of the event, the company was inevitably placed centre stage when things went wrong.
"It was the biggest challenge of my life, professionally and it was absolutely brutal," says Salmon who will share more about the 'ambitious' Live at Worthy Farm experience, advice for event professionals and more at his session at The Meetings Show.
The Meetings Show portfolio marketing manager Alex Softley, said: "We're honoured that Ric will be joining us at The Meetings Show to talk about his experience in virtual events, particularly those with such high prestige. Like it or not, the meetings and events industry has found itself pivoting to virtual over the last 18 months and the format looks set to remain. Hearing about Driift's proven success in producing online ticketed and live-streaming for some of the world's biggest music stars – as well as how the business has overcome challenges – will prove invaluable for any event professional."
Ric Salmon will speak and take part in a live Q&A, at The Meetings Show 2021 at ExCeL London on Friday 1 October.
To register to attend The Meetings Shows 2021 visit here