04 Jul 2022
Organising the Perfect Corporate Event: The Ultimate Guide by The QHotels Collection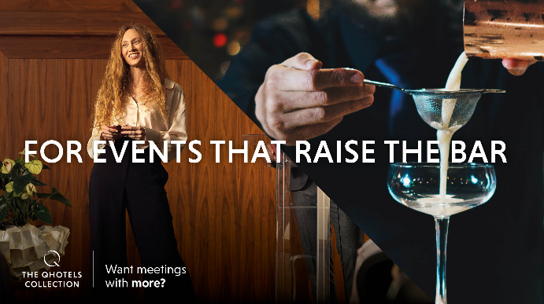 The QHotels Collection, specialists within the corporate event sector, boast 21 hotels & resorts across the UK with state-of-the-art facilities. With various adaptable event spaces, the collection caters for intimate board meetings, high footfall exhibitions, interactive away-days and impressive high-production conferences from 10 to 1,500 delegates.
The QHotels Collection are proud to provide organisers with meetings and events experiences that create impact. No matter how big or small, our expert teams are on hand to guide bookers through the whole process from enquiry to delivery, ensuring every aspect of the brief is met.
As well as adaptable spaces, expert event teams, and outstanding client service, delegates can enjoy nutritious menus specially designed to boost, hydrate and sustain.
We've created a guide packed with top tips and things to remember, so you can be confident your event will run like clockwork.
1. Pinpoint your location
The first step to event planning is selecting a location that everyone can reach with minimal hassle. If you only have one office or base, finding a space that's easily commutable from there is a good place to start. If you have guests travelling from all over, you'll want to find an area that's easy to access via road and rail.
2. Find the perfect venue
Choosing the right venue is about much more than just geographic location. To find that perfect space, first ask what's most important to you and your team – whether that's the look of the venue itself, its facilities, the food, the cost-per-head, or the ability to host integrated hybrid meetings for those who can't make it.
3. Have your preferred dates at the ready
Large events are picking up pace, and lots of popular venues are already back to getting booked up several months in advance. If you've got your heart set on a certain venue, remember to go in with an open mind and a selection of possible dates to avoid disappointment.
4. Know what you want to achieve When approaching a venue, go prepared with a vision of how you want the day to run, and what you want to achieve at the end of it. By having an outcome in mind, the venue will be better placed to accommodate your needs and suggest some new ways to make the day exciting.
5. Think layouts
The layout of your venue will probably depend on the types of activities you want to run. It can also make a huge difference to availability and price. Do you need table seating? Do you need a networking space? Would you like a separate space for break-outs? Do you need exhibition space?
6. Don't leave catering to chance
Getting the catering right is one of the most important parts of your event. You will need to decide how formal you'd like your food experience to be, plus think about tea and coffee breaks, snacks and dietary requirements. Specific needs will need to be flagged in advance to save your guests from going hungry on the day. Your venue will be able to provide you with a list of catering options or tailor a package just for you.
7. Sprinkle some special touches
At The QHotels Collection, we will happily add some personal touches to make your event feel more special. From bespoke welcome packages to personal assistants to help make sure your day runs smoothly, let us know if there's anything extra we can do to take your event from good to show-stopping.
8. Do you need overnight accommodation?
If you've got guests travelling a long way, they'll probably appreciate the option to stay overnight. Choosing a hotel venue makes this super easy to arrange. Simply give your venue a gauge of how many rooms you're likely to need when booking the event. Then confirm later once your attendees have put the date in their calendars.
9. Pre-book to view the space
It's always a good idea to view a venue before you book. That way you can get a real sense of the space you have available, and make sure it matches the atmosphere you're trying to create. If you want to view a venue, it's wise to pre-book an appointment in advance. That way you know all the facilities will be available to view and that staff are on hand to talk you through the possible options for your day.
10. Be open to suggestions
Trust the professionals, we're here to help! At The QHotels Collection, our experts have years of experience organising events for groups of all shapes and sizes.
From team-building days to award ceremonies, training days to networking events. Whatever you have planned for your big event, we're sure to have some ideas to make your day more memorable. Ready to book your next big event? Our stunning array of venues are scattered up and down the country, each with its own special quirks and corporate offerings.
To find out more about hosting your next corporate event with TheQHotels Collection, visit: qhotels.co.uk/meetings-events or contact the team on: events@theqhotelscollection.co.uk