Jun 14, 2019
One Day With - Stephanie Mynett, West Midlands Growth Company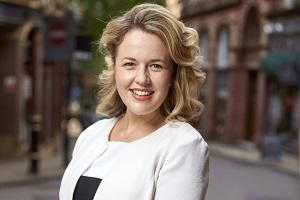 Stephanie Mynett has 15 years' experience studying and working within the West Midlands' events industry. We caught up with her to find out more.
Stephanie Mynett has 15 years' experience studying and working within the West Midlands' events industry, including the last four as Visitor Economy Business Development Manager at the West Midlands Growth Company.
This year, the West Midlands unites for the first time to exhibit at The Meetings Show 2019. The West Midlands Growth Company is joining forces with Conference Coventry & Warwickshire and Shakespeare England Warwickshire, together with 13 other business tourism partners, to showcase the region's conference and events expertise.
What's the best thing about your job?
I feel privileged to be promoting the West Midlands region. I'm from the area and love the fact that it is so warm, friendly and welcoming. This is a region that believes in its potential. It's aspirational and diverse. I enjoy representing and showcasing the West Midlands and all of our best venues to event organisers.
What's your best piece of advice for anyone looking to get into the events industry?
Know your product, network and get yourself known in the events industry. Always be approachable, personable, professional and passionate about what you do. Continually strive to exceed customers' expectations.
What's your to-do list looking like today?
I'm currently devising a new business tourism strategy for the West Midlands to attract more conferences and events that support our unique experiences and sectoral strengths – these include life sciences, advanced engineering and tech & digital.
And following recent exhibitions in Frankfurt and Washington, we're now busy preparing for The Meetings Show – and looking forward to meeting lots of the show's delegates!
What is the most random thing on your desk?
I have a picture of me and my colleague Katie, who is now marketing manager at one of our partners The ICC Birmingham, on Cadbury World's latest ride!
What's your favourite lunch spot?
There's nothing better than the fish and chips at the Black Country Living Museum in Dudley – I took my niece there recently. The attraction has gained worldwide attention in recent years as the official home of the Peaky Blinders, as many scenes of the BBC's hit drama were filmed there.
Who was your last email from?
My last email was from the Head of Business Events at VisitBritain.
Where do you go to get away from it all and unwind?
The West Midlands is spoilt for choice when it comes to green spaces. Not many people realise that more than three quarters of the region is rural and that our waterways are also really popular for recreational activities.
One of my favourite places to unwind is Jephson Gardens in Leamington Spa, a lovely Victorian park in the centre of the town – I go there a lot and enjoy taking a picnic.
Favourite destination you've ever visited?
Vancouver. I went backpacking around British Columbia and was struck by how incredibly diverse it was. There was something for everyone – whether it's an urban lifestyle you're after, or exploring around the Canadian Rockies, skiing or enjoying the coastline.
What was the last book you read?
The Hungry Caterpillar to my one-year-old son! I know the book's content off by heart now. He is absolutely fascinated by the illustrations!
What's your favourite motivational song to start the day?
The West Midlands has a fantastic music scene – we're the home of heavy metal and Two Tone music, among others – but the song that really gets me going first thing in the morning is "Do Your Thing" by Basement Jaxx, it's a feel-good anthem!