15 Nov 2022
The Meetings Show seeks expert speakers for 2023 content programme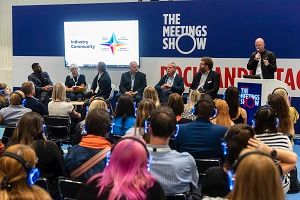 The Meetings Show, the UK's leading event which brings together the world's meetings and events community, is calling for submissions for its 2023 education programme. 
Thought leaders and industry experts with a passion for sharing knowledge, and the ability to talk about current industry trends, are invited to put forward proposals for next year's sessions.
The Meetings Show is returning to ExCeL London on 28 and 29 June 2023, and as always, learning and development will sit at the heart of the event.
Curated by The Meetings Show in-house conference and content manager, the 2023 education programme will cover the latest burning issues including sustainability, diversity and inclusion, virtual event challenges, the recruitment crisis and more, with a focus on practical learning and attendee-led formats including workshops and case studies.
Jack Marczewski, portfolio event director of The Meetings Show, TEAMS Europe and Business Travel Show Europe, said: "We're currently busy working behind the scenes planning next year's content. The business meeting and events industry continues to evolve rapidly, and our education programme aims to help event professionals stay up to date with the latest innovations and trends, navigate new challenges and develop useful skills, while supporting their personal career development.
"The content sessions are always extremely popular and provide value and learning to all who attend. So, if you're an event industry expert with an exciting content idea or a successful case study to showcase, we'd love to hear from you!"  
Those looking to participate in the education programme at the show should provide a proposed title and, in no more than 250 words, a brief synopsis of what delegates will discover by attending their proposed talk. The proposal should also include details of how the talk or informative session will be delivered, with creative ideas for session delivery actively encouraged.
Applications from those involved in a recent project aligning with some of the following MICE industry trends are particularly welcomed:
What organisational changes have you made to tackle recruitment challenges? Have these helped maintain your company's competitiveness?
The sustainability talk - when creating a truly sustainable event end-to-end, what sustainable practices do you have in place? What results are you seeing?
Readopted B2B events models - relearning what attendees are looking for
Teambuilding activities
Delivering events using non-conventional formats
Overcoming virtual event challenges
Diversity spending - what matters the most?
Career options for seasoned meeting professionals
To submit a proposal, please complete the online application form by 17:30 on 31 January 2023.
The 2022 content programme, which kicked off with a keynote by Lord Sebastian Coe, featured more than 85 speakers across 22 hours of educational sessions on topics ranging from building and fostering communities and the metaverse, to sexual harassment, event security and more.