May 01, 2019
Industry News: Olympia London leads sustainability in the event industry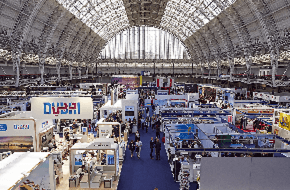 From recycling 98% of waste and sending zero to landfill for the past decade, to supporting victims of the Grenfell Tower fire, we spoke to Sandra Porto, marketing and communications manager, to discover how Olympia London is staying at the forefront of event sustainability.
Known as 'the home of inspirational events', Olympia London is the capital's busiest venue, welcoming more than 1.6 million visitors each year. Its 133-year-old, Grade II listed building hosts over 220 events contributing £1.2billion to the UK economy annually.
Loved by visitors and the local community, Olympia London is also a sustainability champion achieving what many venues would only dream of; for instance, sending zero waste to landfill for a decade.
In 2018 alone, the venue introduced closed loop hot beverages cup recycling, eliminated all single use cutlery and plastic straws from its onsite catering, on top of establishing a comprehensive modern slavery prevention project and delivering a strong community support strategy.
So, what is the 'Grand Plan'?
Recognising its rich heritage, the venue is committed to leaving an enduring legacy; not only as a leading events destination but a sustainable business. In 2017, The Grand Plan launched with a team of passionate members of staff gathered to form a new 'sustainability committee' to collate, share and celebrate the inspiring work being realised as well as developing ideas for the future.
With the vision being more than a company strategy, staff volunteers known as 'Grand Planners' act as ambassadors from across the business, enthusing and motivating colleagues, organisers, visitors and contractors. Their strategy centres on three focus areas: 'Community', 'Environment' and 'Engage, Educate, Empower', with the goal of making a positive impact in every area of influence.
Standing at the forefront of event sustainability
It is a notoriously known fact that, with each event, venues have to deal with an enormous amount of waste left behind after each breakdown; opening themselves up to criticism on how this is handled. Not Olympia London: for the past decade, an effective scheme involving onsite waste segregation, recycling sources, education and collaboration with event organisers means that the venue sends nothing to landfill: 98% of waste produced in the venue is recycled and the remaining 2% is converted into waste for energy.
Launching its sustainability annual report this month, the venue also accounted for reducing 300 tonnes of waste in six months, saving over £30K on transport and disposal costs, eliminating 60 waste-removal journeys and consequently reducing CO2 emissions.
In addition, it successfully abolished all plastic straws and cutlery for its onsite catering and encouraged visitors to use reusable cups by offering hot drinks discounts and to refill any water containers by request at any onsite retailer – the goal being to completely eradicate single-use plastic from the venue in the future.
With developed in-house programmes, Olympia London has also pioneered an industry sustainability report: it is the first venue in the UK to provide organisers with a bespoke post-show report, delivered to every exhibition and developed to help organisers monitor and improve their event's sustainability.
Community engagement
In addition to an independent Charitable Trust, focusing on projects supporting local young people, Olympia London's Grand Plan focus on local charities, which are elected each year by its 'Grand Planners'. The committee then engage in fundraising and volunteering projects to support the 'charity of the year'.
Concerned with the increase in homelessness in London, the committee elected Barons Court Project (BCP), a local drop-in centre offering assistance to the homeless, as charity of the year for 2018-2019. The partnership facilitated complete redecoration of BCP, new lighting, restoration of a Victorian tiled hallway, installation of a new toilet and construction of storage for donated clothing.
Recognising the needs of the local community as beyond monetary relief, Olympia London launched a 'staff volunteering' initiative encouraging employees to volunteer at local charities (in company time). Staff and service partners then engaged in activities from gardening at Maggie's West London to serving Christmas lunch to over 50 users of the BCP in 2018.
Venue space at Olympia has also been gifted to charities and community groups, including the victims of Grenfell fire, for regular council updates.
With a core focus on collaborative efforts, the ultimate goal of The Grand Plan is to leave a positive impact through all that Olympia London achieves, now and for the next 130 years.
Most recently, Olympia London has assisted with a number of incredible events to launch and promote sustainability initiatives; from conscious fashion campaigns to end poverty at Pure London to showcasing on-site waste separation and management of recycling stations at European Coffee Expo. Olympia London continues to motivate clients and work closely with event organisers to help maximise their sustainability credentials and encourage them to discuss any ideas with their respective event managers.
For more information about Olympia London and its Grand Plan, visit
https://olympia.london/