10th edition: Back to the start - Paul Kennedy MBE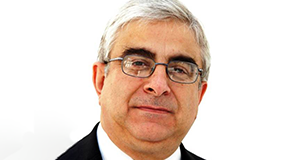 As part of our plans to mark the 10th edition of The Meetings Show, we talk to the show's founder Paul Kennedy MBE about how and when it all started.
How did the idea for The Meetings Show come about?
I had been commissioned as a consultant for Centaur Travel Group (The Meetings Show's former owner) to help re-engineer the Centaur Travel Group. I had long held the view that the UK, as the second largest domestic meeting market in Europe and the largest outbound market in Europe, had never had a hosted buyer based meetings industry show with UK outbound and UK inbound elements. I prepared a proposal for the Centaur board to launch The Meetings Show UK – as it was first known – as a meetings show with a substantial hosted buyer programme and as an education and networking event. It would be somewhere to learn, to network and to do business between meetings professionals. The focus was on meetings and conferences in particular and the supply chain which services these.
The Centaur Travel Group board approved it so we went ahead and launched it. It gained a lot of traction from the international sector. We travelled to 25 European countries in 13 weeks and almost all the trade bodies in the UK and those headquartered in other countries supported the launch. It was well supported from the start, mainly because we had engaged well with the industry.
Tell us more about the first show:
I was non-executive chairman and brought Steve Knight in as event director and Katy Phelps as head of sales, who moved over from Centaur's Business Travel Show. We had a senior advisory board with industry luminaries, such as Patrick Delaney, Linda Pereira, Christian Mutschlechner and Tracey Halliwell, to name just a few, and a special education group chaired by Sally Greenhill to advise us. We also had engagement with the industry associations and a clutch of key collaborations with Olympia, London and Partners and others which nurtured connections around the industry.
We launched the first The Meetings Show UK on 8 July 2013 at Olympia London. It was a three day show initially, reducing to two days in year four, and had 500 hosted buyers attend. It was very exciting to see it well-received and then grow in subsequent years.
What do you think has been the secret to the show's success?
I think it's broadly down to three things: One is having the hosted buyer programme at its core; two, the show's always been produced by professionals from the mainstream meetings industry who know the language of our industry and understand how to interact and network with their peers and three, the show has stayed connected to key trade associations and organisations such as the mia and ICCA. Maintaining those relationships and being engaged in the industry has been, in my view, critical to its success.
How do you feel about the show marking its 10th edition this year?
I was with the show for six years as non-executive chair, with two of those as chair of the Centaur Travel Group. Although I'm no longer involved, it's very satisfying to see the show evolve and grow and it has some very good people behind it. It did very well (pre-pandemic) in growing its hosted buyer numbers which I think lies behind its success.
I've admired the way the show has remained connected to the industry during the pandemic and it's been good to see it support the meetings and events community through the ups and downs.
It's been tough for trade show organisers in every industry so it's great to see The Meetings Show back in its regular June slot this year to celebrate its 10th edition.